John Brezina's US Chess Championships Report
12:43pm Wednesday, November 9th, 2022
"Setting up an epic playoff match..."
Once again John Brezina, Colorado's globetrotting reporter and outstanding photographer, brings us a world class Grandmaster chess tournament report. As always, I am pleased to select and caption Mr. Brezina's great pictures. The heading photo is Jennifer Yu proudly displaying her Championship trophy. Quoting John Brezina. "The US Chess Championships returned to St. Louis October 4-20 to its annual home in the St. Louis Chess Club. The club is undergoing a major expansion which will triple its current size. A temporary playing hall was used for the tournament which had a record 14 players in each field. Defending champion Wesley So headlined the US Championship field while the defending US Women's Champion Carissa Yip was absent in the field."
Eight time US Women's Champion, Irina Krush, filling in her score sheet.
"Top rated player Fabiano Caruana returned along with top rated female player Irina Krush, looking for her ninth US title. And the new American player Levon Aronian appeared in his first US Championship. Hans Niemann made his first US Championship appearance amid much controversy in the chess world. Along with the veterans, the youngest players in each field were Christopher Yoo at 15 years and the incredible Alice Lee at only 12 years old."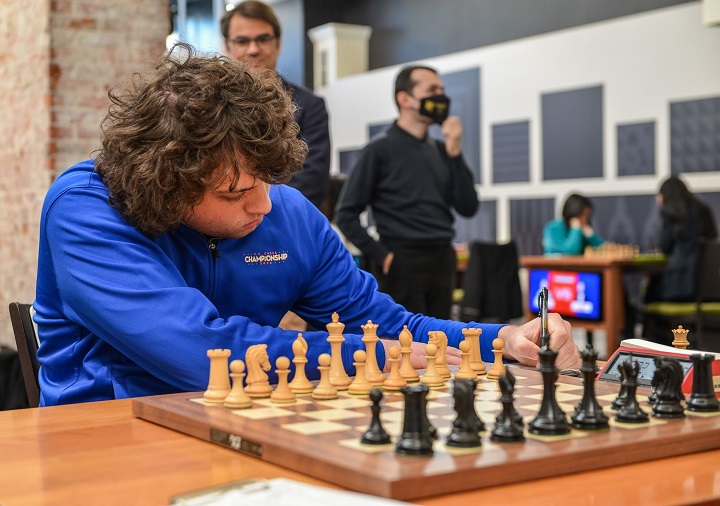 Hans Niemann ready to play without being accused of cheating...

... and Alice Lee is ready to play against anyone in the world.
"I was only able to attend the last round and then the closing ceremony but followed the rest online. Extra security measures were in place due to recent events in the chess world. And with the smaller playing venue and the fact that players had to stay inside during the rounds, they limited photo taking to ten minutes after the round started. I arrived early to capture as many of the players I could before the round started. It's always interesting to see which players arrive early and those that show up last minute. With extra security and scanning, best to arrive early with 28 total players as lines did form to get in."

GM Caruana's expression says what he thinks of the security check and...
...Wesley So seems to be asking, is this really necessary?
"Going into the last round both titles were up for grabs as there were no clear first leaders. Fabiano Caruana with 8.0 points was leading by half a point over Ray Robson with Leinier Dominguez and Awonder Liang in contention with 7.0 points. And the US Women's side had veteran Irina Krush leading the field with 8.5 points. The two players in contention, Jennifer Yu and Thalia Cervantes, were going head to head in the last round with 8.0 points each. Heavyweights Fabiano Caruana and Levon Aronian were paired for the last round while veteran heavyweights Irina Krush and Anna Zatonskih were paired in the women's field."

Fabiano Caruana playing White against Levon Aronian
"The start of the final round and Caruana and Aronian blitzed out the opening and at 34 moves in twelve minutes a draw was agreed. A good strategic move for Fabiano as he now forced Ray Robson to win his game against Jeffrey Xiong to tie for first. But also good for Levon Aronian as his wife was due with their first child that same day! Ray pushed Jeffrey for 72 moves before having to settle for a draw and second place. Both players had impressive tournaments as neither lost a game the whole tournament. Fabiano Caruana becomes the 2022 US Chess Champion."
Jennifer Yu, with her game face on, is ready to play.

"Jennifer Yu had the black pieces against Thalia Cervantes after her twelfth round loss to Irina Krush which put her tied for second place with Thalia. After coming off that heartbreak loss to Irina, Jennifer came out fighting and got to an endgame with much more active rooks. After crashing through on the queenside and at 57 moves, Jennifer won her game. This put more pressure on Irina Krush and her game against long time nemesis Anna Zatonskih. While Irina pressed with a slight advantage, Anna held on for 87 moves and a draw after just the Kings remained. Setting up an epic playoff match between Jennifer Yu and Irina Krush the next day."

Players relaxing with some bughouse chess. Yes, even players at this level.
"After the last round games slowly came to an end, many players ended up in the chess club playing room to relax with some bughouse chess. Even Fabiano and Alejandro Ramirez showed up to join in while waiting for the results where Fabi learned he was the new US champion. Commentator extraordinaire Maurice Ashley even joined in on the fun. And making a cute appearance was former US women's championship player Anna Sharevich and her daughter with their puppy."
The puppy waiting for his turn to play ;-) Then the next day...
...Arbiter Chris Bird explains the play off rules as WGM Yu sizes up GM Krush.

"The next day I was fortunate to photograph the entire playoff match as there was no time limit. Arbiter Chris Bird explained the rules to both players before the start. Two rapid games and then an armageddon game if tied. Special guest Jeanne Sinquefield was there to open the playoffs with the traditional ringing of the bell."
Jeanne Sinquefield is ready to ring the bell and start an exciting playoff match.

"Jennifer Yu started with the white pieces and after an imbalanced middle game, Irina Krush grabbed a poisoned pawn and was soon checkmated on move 46 in a time scramble. After walking off the nerves between games, Irina sat down needing to win with the white pieces. Irina pressed and after an inaccuracy by Jennifer on move 35, Krush was relentless and forced resignation on move 48 with a queen skewer."

The long standing tradition of a handshake to show respect for the opponent...
...then the game begins and may the best player win.
"This set up an epic armageddon game where Jennifer won the coin toss and chose black for draw odds. Irina was in another must win game with white and after Jennifer blundered her bishop on move 9, it appeared over. But anything can happen in armageddon and it surely did. Irina later lost her queen for a rook and knight and her advantage disappeared. With no time increment and each player with just seconds left, the unthinkable illegal move by Irina of not getting her King out of check assured her defeat. Arbiter Chris Bird added one minute to Jennifer's clock and on resumption, Irina flagged and lost her hopes of a ninth US championship victory. A jubilant Jennifer Yu headed over for her interview with Cristian Chirila with a huge smile, winning her second US title."

The big smile says, I am the Champion!!
"Later that evening the closing ceremony took place at the luxurious Chase Park Plaza hotel after a two year absence. My favorite event where you can meet all the players and other chess fans and wind down with great food and drinks. A first class event that draws a great crowd and is opened by the godfather of chess Rex Sinquefield and first lady Jeanne. Speeches were given by both champions Fabiano Caruana and Jennifer Yu after their trophy presentations."
A packed house for the closing ceremony.
"Afterwards the party started with music and dancing and of course, more chess. Bughouse and duck chess seemed to be the favorites. Fun to see everyone having a great time winding down after a long tournament."
Some of the fun was GM Caruana trying to win an arm wrestling contest.
"Thank you to everyone at the St. Louis Chess Club and of course Rex & Jeanne for elevating the US Championships to a world class event. My photos are in the link below along with my YouTube link that has many video clips from this event as well. Enjoy..."
John Brezina with Jennifer Yu, who is still smiling big :-)
Regards, John Brezina.

https://photos.app.goo.gl/QCj1BUL1vTTBx1SLA