John Brezina's St. Louis Report
9:05am Saturday, September 16th, 2023
"...where theory is no longer relevant."
Once again John Brezina brings us an excellent report from St. Louis. This time reporting and photographing the "2023 Champions Showdown Chess 9LX". A Fischer Random tournament with an all star Grand Master cast. Why "Chess 9LX" is beyond me, but with all Rex Sinquefield is doing for American chess he can title his awesome St. Louis chess tournaments in any way he likes. It is certainly an unusual tournament when GMs have no opening preparation to rely on and have to start thinking right from the get go. As always, it is my pleasure to select Mr. Brezina's photographs, and caption them with as he says, "stellar photo commentary". Yes, stellar :-) The heading photo is the stellar lineup of the tournament players.
We all wish for the day when Denver is as well known as St. Louis for promoting chess in the United States, and we have a bigger giant chess piece :-)
Quoting John Brezina: "Fischer Random Chess, Full Chess, Chess 9LX, whatever you call it, there is no denying the exciting games this variant produces. The sixth edition of the 2023 Champions Showdown: Chess 9LX, returned to St. Louis in what has become the annual birthday celebration for Rex Sinquefield. With the ongoing expansion of the St. Louis chess club, the tournament was held on the top floor of the World Chess Hall of Fame, unfortunately barring spectators. But fans were still able to follow the games online with great coverage and commentary as usual while the patient fans could wait outside the Hall of Fame and catch their favorite player for an autograph as they arrived and departed."

Sam Sevian, a rising star, with Garry Kasparov, a legend.

"The 13th world champion Garry Kasparov headlined the tournament along with nine of the top U.S. players. Top rated and current World Fischer Random champion Hikaru Nakamura returned as the player to beat. As tradition, the tournament opened with Ultimate Moves, where Rex and his team took on newcomer Alex Kerford in a four game rapid match. The five man teams behind Rex & Alex were each picked from the 9LX roster where all took turns at the board after five moves each. I was unable to make it to the opening but did attend the last day and final three rounds to capture some photographs as these players analyzed together and then battled it out at the boards."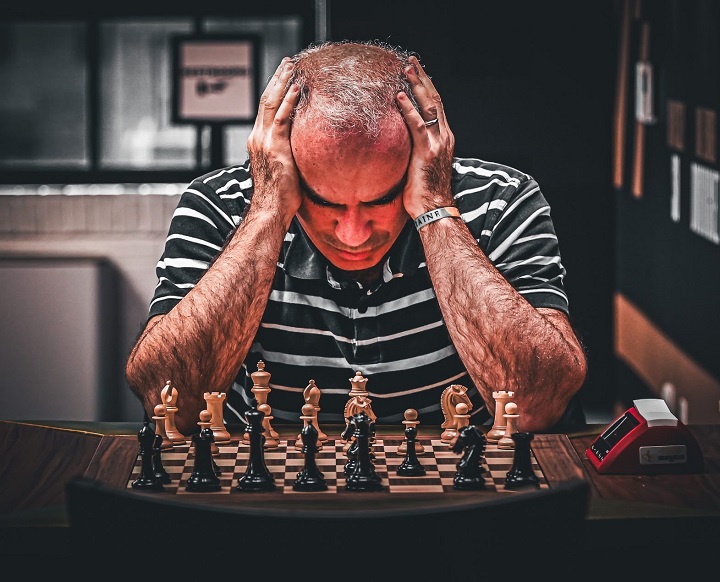 An artistic John Brezina photo of Garry Kasparov.
"Nine rounds were played over three days at Game/20+5. The random position was revealed fifteen minutes prior to the start of the round, giving players time to study and analyze either together or alone. This was a treat to watch as different pairs of great players sat down and analyzed together while sometimes attracting others. Players were then given a one minute warning as the start of the round approached. Some would rush to their boards as they tried using every second to analyze openings where theory is no longer relevant."
GM Wesley So shares a laugh GM Levon Aronian
"Day one and round one started out with fireworks and three decisive games. Garry Kasparov, looking to avenge his winless 2022 performance, took down Wesley So with the black pieces. Veteran players Fabiano Caruana and Levon Aronian were also taken down in round one by the two Sam's, Shankland and Sevian. Perhaps vengeance in round two spurred victories for those same three players as Wesley, Fabiano and Levon all bounced back with wins. The last round of day one and Kasparov finished off the young Ray Robson by forcing his king into the corner. This put Garry in clear first with 2.5 points after day one, a complete turnaround from last year's performance."

The two Sam's. Sam Shankland (w) and Sam Sevian (b)
"Day two and round four finally produced Hikaru Nakamura's first victory with a win over Fabiano Caruana. Sam Sevian and Shankland also rounded out the other two victories. This put Sam Sevian in tie for first with Garry Kasparov, and the former U.S. prodigy never looked back. Round five was a slugfest with all but one game ending in a draw. Jeffrey Xiong delivered Garry Kasparov the first of his next five losses in a row, a complete collapse for Kasparov after a stellar start. Sam Sevian drew Hikaru Nakamura while Aronian beat Leinier Dominguez to put himself tied with the youngster. Round six topped the previous round as all games were decisive. Sam Shankland delivered Hikaru Nakamura his first loss while Sevian and Aronian both won their games to stay tied for first."
In much the same way as boxers tap gloves, chess players shake hands to show respect, before the fight over the board begins.
"I arrived for the final day of action in St. Louis where it was a beautiful day for the climax of the tournament. The 22-year-old Sam Sevian was tied for first with Aronian a full point ahead of the field. Before round seven, it was thrilling to watch Garry Kasparov sit down with Hikaru Nakamura and analyze the new position along with Wesley So. A former world champion with the current and former world Fischer random champions altogether was a feast for the senses."
Wesley So participating in post game analysis with GMs Kasparov and Nakamura.
"Fischer random chess is great for those who like fewer draws as more decisive games continued in round seven. The complexities that arise in chess are only amplified in this variant as a player can get into deep trouble very early in the game with no opening theory to fall back on. Sam Sevian continued his winning streak by handing Kasparov another loss while Wesley So held Levon Aronian to a draw. Fabiano Caruana and Sam Shankland stayed on the leaders' heels by winning as well."

GM Xiong is in full focus mode, while a relaxed GM Caruana reaches for his coffee.
"The penultimate round eight paired the two youngest players together, Sam Sevian and Jeffrey Xiong. The game ended in a draw and allowed others to gain on the leader. And Fabiano did just that by flagging Aronian in a complex game. despite having a five second increment. Sam Shankland also gained by handing Kasparov another loss after a short 22 moves. The most dramatic game of the round was the clash between two of the world's best Fischer random players, Hikaru Nakamura and Wesley So. Hikaru reached a winning position in the endgame and looked quite comfortable at the board. But as Yogi Berra once exclaimed, "it ain't over til it's over!" Wesley somehow managed to turn the tables with his outside-passed pawn, and shortly after a dismayed Nakamura resigned in disbelief."

GM So turned the tables with an outside passed pawn and won the game.
"Round nine and the crucial main match to watch was between leader Sam Sevian and Fabiano Caruana who was just half a point behind. Sam Shankland was in striking distance as well a half point behind. On the other end of the spectrum, Leinier Dominguez won his first and only game of the tournament, handing Kasparov his fifth loss in a row. Ray Robson continued to struggle in this format, losing to Wesley So and ending up in last place without a win. Back to center stage where Sam Sevian played a stunning bishop sacrifice to start a king hunt against Fabiano. Having the pressure on and falling behind on the clock, Caruana finally succumbed and Sam Sevian was crowned the champion with an incredible 7 out 9 points, taking home the top prize of $37,500. Levon and Wesley also won their games while Sam Shankland drew, putting them all in a three way tie for second."

GM Ray Robson had a disappointing tournament. At this level, it hurts.
"Another fantastic finish to such a great tournament put together by Rex & his team. An ecstatic Sam Sevian came downstairs after a quick interview by Sabina Foiser and final photos by Lennart Ootes to fans hanging around the world's largest chess piece outside."
Sam Sevian, the tournament winner, has incredibly set up the pieces all wrong :-)
"Other players hung around upstairs still going over the day's happenings. But not for too long as all the players and other dignitaries were invited to an after dinner closing reception. Much thanks to the staff for allowing me the privilege to cover this tournament and I look forward to an expanded club opening where all of us fans can once again get up close to these amazing players."
"Enjoy all of my photos from the event here. " Also, don't miss Mr. Brezina's American Cup report in the September issue of the Chess Life magazine. Thank you kindly for your elite tournament reports, Mr. Brezina, and congratulations on your America Cup article being published in Chess Life. That's big time!!

Regards,
John Brezina
Colorado Chess Informant Editor