DCC 2023 Denver Open
11:52am Friday, July 28th, 2023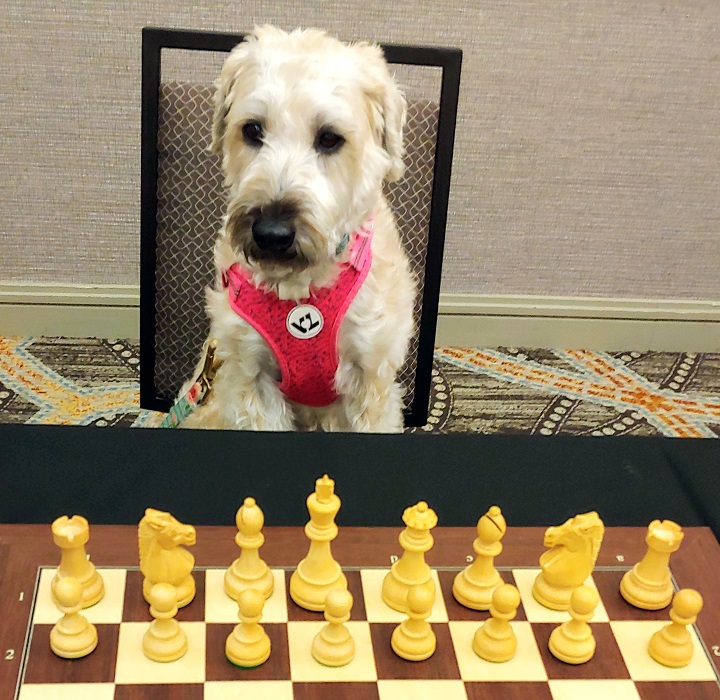 "We're going to need a bigger boat."
To tell the truth, I didn't expect the 2023 DCC Denver Open entries to exceed the fantastic 188 player registration we had for the 2022 Denver Open, where we had special guest GM Jesse Kraai as an extra added attraction. Well, sometimes it's good to be wrong. This year we had an extraordinary player registration of 194 players!! With 49% of the players from outside the Denver area. This is with only TLA's on the CSCA and DCC web pages and two Richard Shtivelband email blasts to the DCC email list. No TLA in Chess Life, no Chess Life email to players in the surrounding states, or any other advertising, other than word of mouth and a few brief Brian Wall emails to his chesslists.
A packed main room...
...and a full Championship room for the 1st round. What a great tournament this was.
Is the DCC good for attracting chess players to Colorado or what? When Tactics Time author Tim Brennan saw the registration list, he tweeted, quoting from some movie, "We're going to need a bigger boat" :-) The heading photo is Shirley Herman's dog, "Snuffles", who we allowed to play for free :-)
Elizebeth Shaughnessy traveled from Berkley, California to play in the Denver Open.

It turned out that we did have two special guests who paid their own way to be at the tournament. Elizebeth Shaughnessy, founder of the Berkley Chess School. She is also very well known in the international chess world. We also had well known social media star, Megan Chen from Chicago.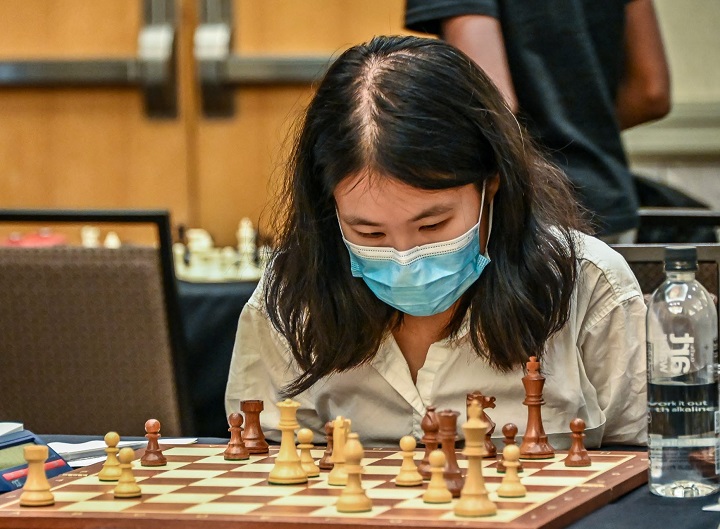 Megan Chen from Chicago at the board playing in the DCC 2023 Denver Open
Here is what Tim Brennan had to say about Ms. Chen being at the tournament. Quoting Mr. Brennan "This weekend's Denver Open was an amazing tournament! One highlight for me was meeting and getting to play Megan Chen! Megan has been a guest on Jennifer Shahade's "Ladies Night" podcast (episode link: Ladies Knight Chess: Ladies Knight with Jen Shahade ft. Megan Chen LK052 on Apple Podcasts) and Ben Johnson's "Perpetual Chess" podcast (episode link: Perpetual Chess Podcast: EP.134 - Megan Chen (Adult Improver Series) on Apple Podcasts)" She is very active on Twitter (link: Megan ⚔️ 🔥 ⚔️ (@gauss1181) / X (twitter.com) where she posts frequently about chess and in the "chesspunks" adult improver community."
"Currently Megan is on a quest to be the first female to play in all 50 states! She discussed this on Shahade's podcast, and at the time still had 5 states to go including Colorado. When I heard this, I sent her a message saying that she should come for the Denver Open because it is always a great tournament. She ended up getting a ticket and flew in from Chicago for the event! After crossing Colorado off her list, she only has Maine and Alaska left! Very impressive and exciting! Megan played up in the Under 2200 section, and I was happy to be paired against her in round 3!"
Chess players like Megan and Elizabeth are just so impressive. Ms. Shaughnessy has schooled thousands of chess players and has received a Chess Educator of the Year award, along with many other acknowledgments of her contribution to chess. Ms. Chen with her social media presence, can only be good for the growing popularity of chess. Shirley Herman has informed me that her daughter, Sara, brought in "NM Nikolas Theiss who won the U2200 last time he was here played in top section. He was from Maryland then but now from Saint Louis. Another streamer friend Henry Benaid flew in from somewhere. And Christina Chang, who performed well and prized in U1400, is TheChessTina on Twitch from California. She came here for her very first rated chess OTB experience after meeting Sara at the National Open in Vegas last month." The DCC thanks you all for attending the tournament, and we would like to have you all back next year or for any DCC tournament between now and then.
Rhett Langseth (w) and Vedanth Sampath (b) have agreed to a draw. Vedanth appears quite happy to have taken a half point from the tournament winner. Neil Bhavikatti is about to move on the other board.
So then, on to who won what in the nearly 200 player 2023 Denver Open. In the Championship section, Rhett Langseth is not going to be a USCF Expert for long, not because his rating is falling, but because it is skyrocketing. He finished in clear 1st place with 4.5 points. Only giving up a last round draw to Vedanth Sampath. This after taking the full point from NM Brian Wall in round 4. Rhett's fine performance won 900 dollars.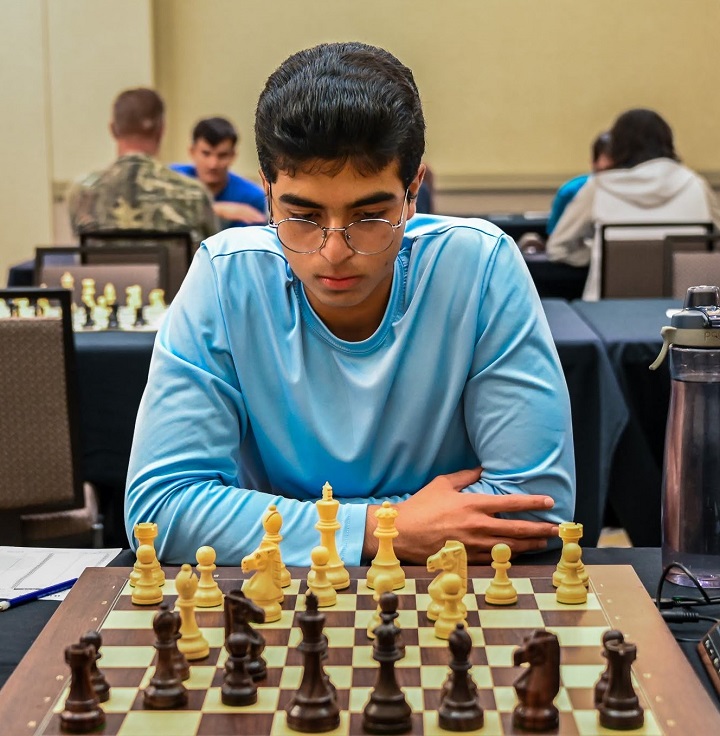 Neil Bhavikatti is no doubt seeing deep into the position.

Vedanth tied for the combined 2nd and 3rd place prize with Neil Bhavikatti and Ashton Jin. Each of these players ended up with 4 points and each player won 433 dollars and 33 cents. Vedanth also had the pleasure of upsetting 2361 rated Noel Marques in round 2. It was good to see both Neil and Vedanth back at the chessboard.
The 300 dollar U2200 prize was shared by Craig Wilcox, Turpana Molina, Daniel Marmer, and Daniel Herman. Mr. Molina has been on fire lately. Upsetting one higher rated player after another. Here winning against Jorge Rubio, Matthew Wolfford, and Sara Herman. Mr. Marmer - not for long rated only 1727 - will pick up big rating points for upsetting Sikandar Baker-Nagar and David Campbell. A combined rating point difference totaling up to 484 points.
Turpana Molina (w) vs. Sara Herman (b) Sara's brother Daniel, is making a move on the next board.

Front to back: Edward Yasutake (b) vs. Mike Maloney (w) - Julien Botto (b) vs. Kenzie Moore (w) - Rowan Oregel (b) vs. Will Wolf (w) - and DuWayne Langseth (b) vs. Jeremy Roldan (w)

The U2200 section was won by Edward Yasutake and Mike Maloney. They each finished with 4 points and they share the combined 1st and 2nd place prize of 1050 dollars. Mr. Maloney earned his share of the money with a round 4 small upset win over Kenzie Moore, and by holding Mr. Yasutake to a last round draw. Mr. Moore along with Julian Botto, Dwayne Langseth, Rowen Oregel, and Nate Getz all ended up with 3.5 points and they share the 3rd place prize of 300 dollars. Mr. Getz had a big 390 point rating difference win over Faris Gabbara in round 3.

Long time DCC player, Randolph Schine is making a move.
In the U1800 section, Leif McFadden is another player who is going to see a huge USCF rating jump. His pre-tournament rating was 1476 and he took the full point in every round from players with a combined rating point difference totaling up to 1151 points. This astounding 5-0 score put 500 hundred dollars in Mr. McFadden's pocket. Incredibly eight players finished with 4 points and tied for the combined 2nd and 3rd place U1800/U1500 prize. Willard Davis, Shubh Misra, Chattin Simpson, Chris Burkhardt, Randolph Schine, William Hensley, Seth Lichtenstein, and Samual Bieler. Each of these players takes home 100 dollars. I bet they are all thinking - if only I could have drawn one of the games I lost or won one of the games I drew.
Players mentioned above are in this photo somewhere. I have no excuse for not getting individual prize winner pictures.

In the U1400 section, Matthew Abraham also went undefeated to win 350 dollars with a perfect 5-0 final score. Krish Mathimaran and Visant Sankaranarayanan tied for 2nd and 3rd place with 4.5 points and they each won 187 dollars and 50 cents. Finishing with 4 points, Jonathan Lovell won the U1200 prize of 150 dollars. Ashwin Mathimaran and Rayansh Agarwal ended up with 3.5 points and share the 150 dollar U1000 prize. The Unrated prize of 125 dollars was shared by Christina Chang and Joseph McCafferty.
Again, no excuse for not getting individual pictures, but it was an excuse to use another room shot :-)
The total prize money payout of 6300 dollars was shared by 32 players. The DCC is paying out significant prize money that anyone, regardless of their rating, has a chance to win. All you have to do is make better moves than the opponents in your section :-)
No Tournament is successful without quality TDs running the show. Local TD Peter Barlay is learning the job from a pro, FIDE Arbiter Tom Nelson, in the red shirt. Several players mentioned to me that they were pleased with how the tournament was run. As usual with a Tom Nelson tournament, rounds started on time, any questions were answered correctly, any disputes were settled quickly, and the USCF rating report was submitted promptly. The DCC thanks both of you very much.
Earle Wikle, along with Brian Wall, organized the tournament, and Mr. Wilke set up the DGT boards, and the games in progress are displayed on the screen...

...which these players are checking out. This photo is by Shirley Herman, as is the heading photo of her dog.
Mr. Wilke had this to say about the Tournament. " I was blown away by the great support from the Denver chess community and the turnout was fantastic. Even though there were problems we all stepped up as a team and worked through them to still have one of Colorado's biggest and best tournaments. Thank you all that attended the Denver Open and made it a success. I hope that over Labor day weekend the Colorado Open can get near the turnout at the same location."
All other pictures are by John Brezina. See all of his excellent photography of Round 1 and Round 5 Here is a sampling to whet your appetite.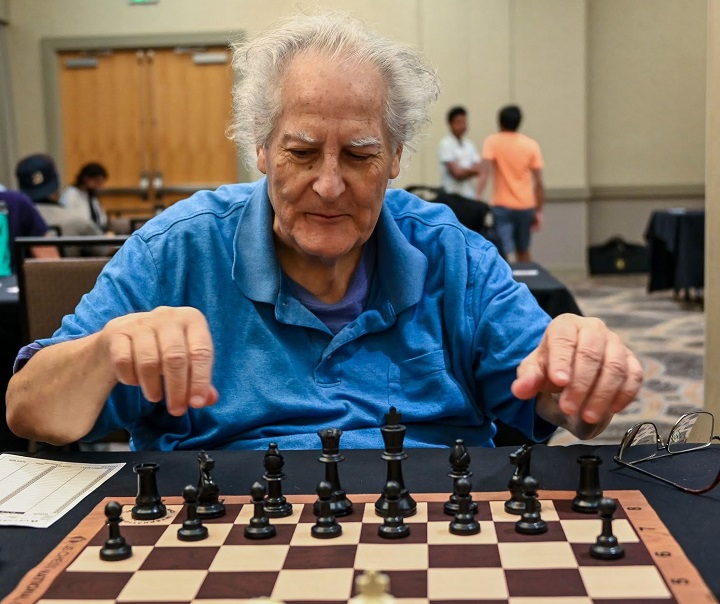 Brian Wall, the grand old man of Colorado chess, is ready to pounce.
Ugh. I don't like the looks of this.
Apparently, Tim Brennan doesn't like his position either :-)
The youngster's expression says, Dude, there is nothing you can do...
...and the adult soon congratulated his young opponent.
This is already a scary position.
Chess isn't just for old men anymore.
What's going on over there?
Could that be a free piece I'm looking at?
Yours truly trying to think.
Let me repeat that chess is not just for old men anymore.
DuWayne Langseth, holding his nose on his face, or trying to keep his eyeballs from falling out :-)
Finally, a big THANK YOU to all the players who made the DCC 2023 Denver Open a huge success. We are especially grateful for the players who traveled from out of state. 194 registrations was a record Denver Open attendance!!

Games Section
The DCC is also most grateful that once again Earle Wikle - the President of both the CSCA and the DCC - set up DGT boards for the DCC Denver Open. See the FIDE-rated section games and the U2200 games . Click Round in the upper right corner and select the round and game you wish to view.
1) Davin Yin vs. Brian Wall. Round 1. NM Wall has again done a 40 move challenge. Meaning he has won with every possible Opening move. finally winning with 1...b6. and 1...g5. In this position after 28. b4, find mate in 2.
2)
Brian Wall vs. Christopher Motley
. Round 2. Final Position. Brian admits to having low energy in this tournament. Saying "...but I was tired and getting nowhere in this game." Back in the day NM Wall would grind this position till his opponent resigned from exhaustion. Instead, a draw was offered and accepted.
3)
Noel Marques vs Brian Wall
. Round 3. Mr. Marques was the highest rated player in the 2023 DCC Denver Open and has a GM norm. NM Wall rose to the occasion and taunted the near GM with 1...g5. Quite possibly the worst opening reply in chess. In this position, White has just played 39. Rd1-c1, NM Wall says, "I have two good moves here, 39... Bc4!!! +3.4 and ... f3!!" excessive exclamation marks like usual from Mr. Wall :-) Which move did he choose? On the clock, Brian has 9:03 and Mr. Marques has 3:36 and a 30 second increment each move for both players.
3a)
the same game
Mr. Marques has just played 47. Rh5-f5. Not realizing he was dealing with Pawn Wave Guy. What sequence of moves does Black play now to elicit this comment from Mr. Wall, "Now I have King, Rook and Two Bishops to help support my e-pawn". Figure out those moves before going to the game, then enjoy the excellent technique NM Wall demonstrates to win the game. In this tournament, opening and winning with 1...g5 and 1...b6 completed Brian's 3rd 40 move challenge!!
4)
Brian Wall vs. Rhett Langseth.
Round 4. After 86...Ke4 Rhett is a pawn up, but the position looks like an easy draw for a player of Brian Wall's caliber. Brian says "87. Bb2! or Ra4+ is fine." Instead, NM Wall played a "900 dollar mistake" meaning his next move essentially gave clear 1st place to Mr. Langseth. Why was 87. Bb4 a losing move?
5)
Craig Wilcox vs. Brian Wall
. Round 5. Final position. There was some let's just say inappropriate behavior during this game.
Quoting Brian Wall "
On Move 11 Qb5+ I thought I had dropped a piece and I threw my pen in disgust. It bounced into Craig's water cup." -
this would have been somewhat of a distraction in the tournament room and for his opponent :-)
- "Turns out I only dropped a pawn. When I dropped a second pawn, I offered a draw. Craig says he did not want to lose to someone who was falling asleep in the game."
6)
Megan Chen vs. Tim Brennan.
Round 3. After 25...Rb6-c6 find the cool move that Mr. Brennan played that wins a pawn and must have come as a shock to Ms. Chen.
7)
J.C. MacNeil vs. Amber Lock
. Round 5. After 26...Kd8-e7 how does White win a piece? Mr. Lock is from Gillette Wyoming. I thought it was great that we had players from all over the country at the 2023 Denver Open. In my opinion, after the last several DCC Denver Opens, I think we are justified in claiming that this is a national tournament.
Thanks again to all,

J.C. MacNeil