John Brezina's Reports from St. Louis
12:33pm Thursday, September 15th, 2022
... saw Alireza Firouzja turn into an absolute beast at blitz.
This report starts off with the recent St. Louis Rapid and Blitz tournament. The 2022 Sinquefield Cup tournament follows. The heading photo is tournament winner GM Alireza Firouzja with John Brezina. As always, I am pleased to post Mr. Brezina's reports from the worldwide GM tournaments that he attends and photographs for our pleasure. Quoting John Brezina: "The Grand Chess Tour returned to the U.S. with the St. Louis Rapid & Blitz held on Aug.25-30, 2022. A strong field of players including World Champion challenger Ian Nepomniachtchi and Alireza Firouzja, which was his first time playing in St. Louis. The big six from the U.S. were Fabiano Caruana, Hikaru Nakamura, Levon Aronian, Leinier Dominguez, Sam Shankland, and Jeffrey Xiong. Jeffrey was a late addition after Richard Rapport was unable to acquire a visa. No spectators were allowed in the playing hall as the St. Louis chess club is undergoing a major expansion. Still many players and fans showed up during the event and you could always find some games being played outside, sometimes late into the night".
Street players outside the St. Louis Chess Club...
... and two old guys still looking for the best move...
...and a collage of Fischer memorabilia on display inside the World Chess Hall of Fame
'In addition to the tournament, the most recent exhibition at the World Chess Hall of Fame had just opened a week prior. 1972 Fischer Spassky: The Match, Its Origin, And Influence. Perhaps my favorite exhibit since this match and Fischer's story of how he got there is what first caught my imagination and influenced my beginnings in chess as it had for so many others."
Fischer has the money, but Spassky doesn't want to relinquish the crown
"A beautiful exhibit celebrating the 50 year anniversary of this epic match. I was born three months before the match, yet it would later impact me and so many others even still today. The WCHOF once again outdid itself by transporting you back in time as you step into the exhibit with its retro colors and murals. Many never before seen photos and other items were on display including an identical replica of the playing table and signage, my favorite. Rex Sinquefield was a big Bobby Fischer fan and his love of chess would later bear the fruit of the St. Louis Chess Club and a stunning collection of Bobby Fishcer memorabilia."

What a shame it is that a check for any hidden electronic devices is now required.
"Back to the chess tournament. The first three days were three rounds of rapid each day at G25+10. Day one had the young Firouzja take an early lead with two wins and a draw. One of those wins was against number one seed Hikaru Nakamura. Day two and Firoujza would once again keep the lead by a point. One of his wins came against American player Leinier Dominguez, who tends to find himself in time trouble often. This time it would bite him as he flagged in a very complicated position, despite a ten second increment."
Fabiano Caruana about to hit the clock and Ian Nepomniachtchi with an uh-oh look :-)
"The final day of rapid saw Maxime Vachier LaGrave catching up and tying Alireza Firoujza with eleven points. Number one seed Hikaru Nakamura ended up in a disappointing last place after the Rapid portion. His final game with Fabiano Caruana was a back and forth struggle but Hikaru would make a mistake late in the game after seemingly being in complete control. An obviously frustrated Nakamura sat stunned briefly after realizing his mistake and then left the board and abruptly exited into the rainy streets in disbelief. The last two days were the blitz portion of G5+2 with a grueling nine games each day. Needless to say many games ended in crazy time scrambles resulting in falling flags. These were certainly the best games to photograph and video as we have all been in that hot seat of a time scramble and it is interesting to see how the best players in the world handle that seat."
GM Firouzja (w) vs. GM Nakamura (b) Shouldn't there be some sort of dress code? :-)
"Hikaru Nakamura turned up the heat as he recovered from rapid and showed why he is the number one blitz player by winning six games and drawing three on day one. Close on his heels was the young Firouzja as the only other player not to lose a game on day one, just half a point behind. Former World Blitz Champion Leinier Dominguez was obviously not in form as he lost eight games and only clinched one draw. Sam Shankland fared barely better with seven losses and two draws. Blitz can be a bloodbath indeed!"
GM Firouzja with his game face on.
"The last day of the tournament saw Alireza Firouzja turn into an absolute beast at blitz. Racking up an unbelievable seven wins and only giving up two draws to MVL & Nepo he was unstoppable. Being there and watching him up close was incredible as he seemed to easily handle his opponents and never get into time trouble which allowed him to follow many of the other games. An amazing eight out nine points to finish the tournament ahead of the pack with several rounds to spare. Defending champion Nakamura took second place in day two of blitz and in the tournament overall. Fabiano and MVL tied for third and Dominguez, being off his game, finished in last place overall."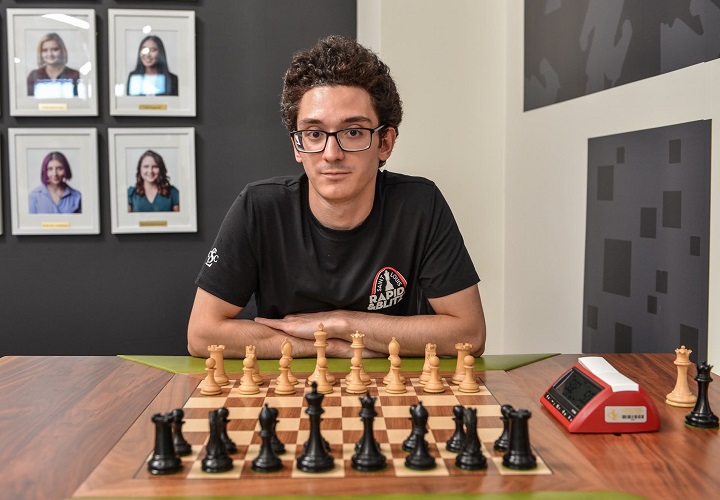 Fabiano Caruana, calm, cool and ready to play.
"Following the last round of blitz was the closing ceremony that took place across the street in the World Chess Hall of Fame. Always a good way for the players to unwind and catch up with many others in the chess world. Some officials from US Chess were present as their office headquarters have officially been moved to St. Louis. Cristian Chirila hosted the ceremony and keynote speakers included Rex & Jeanne Sinquefield, who are always very gracious hosts."
Main man, Rex Sinquefield, front and center waiting for the closing ceremony to begin...
...and Jeanne Sinquefield addressing the players and the audience at the ceremony...
... and here Rex and Jeanne Sinquefield are relaxing outside their fantastic chess club.
"They both appear often around the club during the tournaments, and you can catch Rex inside watching the rounds along with other fans. I was fortunate to catch a nice photo of them both sitting out front of their club just relaxing. Alireza Firouzja and his proud parents posed for photos afterwards with the trophy. And he was gracious to allow my first photo with him as well. We'll be seeing much more of this young man in the future I am quite sure."
Chief Arbiter, Chris Bird, observing the games.
"A big thank you to Tony Rich and the St. Louis Chess Club for another spectacular tournament. And thanks to JC MacNeil for putting this together on the DCC page and all his tireless efforts for the Denver Chess Club reports. Enjoy the many photos in the links from the tournament, closing ceremony, and the Fischer-Spassky exhibit."

Sinquefield Cup 2022. Continuing to quote John Brezina. "The final leg of the Grand Chess Tour finishes in St. Louis with the prestigious Sinquefield Cup September 1-12, 2022. In honor and recognition of Rex Sinquefield, it has become the premier and strongest classical tournament in the U.S. each year. World Champion Magnus returns along with next year's challenger Ian Nepomniachtchi. Defending 2021 champion Maxime Vachier Lagrave also returns with St. Louis local Fabiano Caruana. Fresh off a victory in the Rapid & Blitz just days before, Alireza Firoujza makes his first Sinquefield Cup appearance. Another first time player is the young American player Hans Niemann, who replaced Richard Rapport last minute due to visa issues. Ten players in total play nine rounds of classical chess."
The packed outdoor pavilion for the Opening Ceremony
"This year was special as the opening ceremony was open to the public for the first time at the beautiful World's Fair Pavilion in Forest Park. The opening also included a celebration of the 50th anniversary of the 1972 Fischer-Spassky World Championship match with a live musical performance by Brian Owens."

Magnus congratulating a player for a good game. Note the number of spectators.
"But the best part for me to photograph was the 50 board clock simul by the ten players. Each player took on five players which included mostly local kids but also some dignitaries. Two of which played against Magnus Carlsen, Rex Sinquefield and Eric Rosen. Eric was by far the strongest player in the field and is a world class streamer. He analyzed his game in a YouTube video which is fun and instructive to watch. I was able to catch much of his game on video which I have included below."
"A three part video series since I was also trying to capture as many photos as possible in between. Eric Rosen's game was the last to finish and it was entertaining to watch the kids swarming Magnus for autographs and photos while he was still playing. All the players were gracious in taking photos and signatures and seeing the World Champion handle the crowds so well was nice."

GM Carlsen engaging the crowd. Don't miss
the video.
"After the simul, everyone mingled and socialized while the finishing touches in the pavilion were completed for the ceremony. A beautifully decorated room with VIP tables and a stage set for the master of ceremonies Alejandro Ramirez. A great opportunity to meet the players and so many others in the chess world. Fun to see chess fans asking Rex Sinquefield for autographs as well. Many chess boards were set up around the hall too which provided much entertainment. After the player's introductions and several speakers, Brian Owens took the stage and played music while a big screen projected images of Bobby Fischer and the epic match that took place in 1972. Overall the ceremony attracted a huge crowd and many thanks to the St. Louis chess club staff that put on a first class event for the public."
No vinyl boards and plastic pieces on a plastic table for these games.
"Back to the St. Louis chess club the next day for round one. Spectators were not allowed inside the playing hall since the club is going through an expansion but could watch the excellent commentary throughout the club by the team of Yasser Seirawan, Peter Svidler, and Alejandro Ramirez. Special guests would make appearances during the tournament including NHL St. Louis Blues player Robert Thomas and American rapper Logic for round one. Both even played a little chess and Robert paired up with WGM Katerina Nemcova for a little bughouse. I spotted ChessLife editor John Hartmann in the playing hall as well. "

Jeanne Sinquefield about to ring the bell and start the tournament.
"St. Louis Chess Club Executive Director Tony Rich introduced the start of the Sinquefield Cup and by tradition Jeanne Sinquefield rang the opening bell to officially open and commence the games. Extra attention was given to the board between Magnus Carlsen & Ian Nepomniachtchi. While Nepo won the right this year to challenge Carlsen for the title again, it will not happen since Magnus chose not to defend his title next year."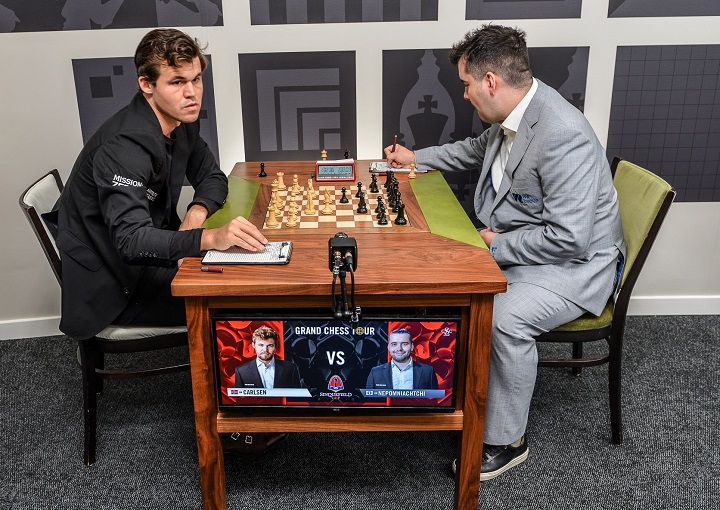 Would Nepo take the title from Magnus if they do have the rematch?
"Their game started slowly but the endgame favored Carlsen which forced Nepo to sacrifice a pawn. A second pawn later dropped due to a mistake and Magnus captured the only win in round one as if a continuation of their World Championship match. The other four games were drawn with little excitement including the game between the latest Rapid & Blitz champion Firouzja and Caruana. After his interview, Magnus was in great spirits from his victory and gracious to a young fan and family that drove all the way from Iowa to see the World Champion. Meeting Magnus and getting his board signed made young Kelton's day."

Here GM Fabiano Caruana is autographing a young fan's board while his dad looks on.
"Round three and subsequently the start of round four will be remembered in the history books of chess. A win by Wesley So over Caruana and a win by Alireza Firouzja over Aronian were impressive, but the sensational upset victory by Hans Niemann over World Champion Magnus Carlsen in their first classical encounter would send shockwaves through the chess world."
Hans Niemann was unfairly vilified on social media simply for winning a game against the chess world idol, Magnus Carlsen.
"However those shockwaves would not start until the beginning of round four where Magnus Carlsen was absent for his game against Shakhriyar Mamedyarov and therefore forfeited by the arbiter. Later it was learned that Magnus withdrew from the tournament but no explanation was given which led to widespread speculation across the internet. His games would be all voided and essentially giving everyone a bye for the remaining paired rounds."

GM Firouzja maybe doing some origami before the game starts :-)
"After the penultimate round, Firouzja & Nepo were tied for first with Wesley So half a point behind. A win by Wesley would have created a three way tie, but all games were drawn including his own setting up a tie break match the following day. Game one and Ian Nepomniachtchi pressed after getting a passed pawn, but stiff resistance from Alireza and the draw was held. Nepo had the black pieces in game two and on move 16 blundered a piece, allowing Firouzja an easily converted win. Back to back wins in the two strongest tournaments with his first visit to St. Louis is quite remarkable for the young player. Can he make it three in a row with a win in the upcoming 9LX tournament featuring Garry Kasparov?"
A well dressed GM Ian Nepomniachtchi, maybe heading for the tie break match with rising star, GM Alireza Firouzja
"Another great finish to the Grand Chess Tour which Alireza Firouzja also won in his first showing. I have included many photos from the events below along with some new videos posted on my YouTube channel. Keep spreading and teaching our great game. Enjoy."

This youngster approves of Mr. Brezina's report and picture taking skills.
Thank you once again Mr. Brezina. I, and I'm sure everyone who reads your reports, appreciates your great photography and reporting from the world class tournaments that you attend. JC