John Brezina's Report from Madrid
4:32pm Thursday, July 7th, 2022
"... then entertained the crowd by acting as a fan waiting for an autograph from Fabiano Caruana."
As always, It is my pleasure to select and caption John Brezina's terrific photography, and to also share his written report from the international chess tournaments that he is privileged to attend. This one is special, as it is from Madrid, the capital city of Spain. Site of the recent FIDE Candidates Tournament to determine Magnus Carlsen's challenger for the 2023 FIDE World Chess Championship. It was disappointing that neither Fabiano Caruana nor Hikaru Nakamura finished in 1st place, but it cannot be denied that Ian Nepomniachtchi played very well. The heading photo is the great chess tradition of a handshake before the game. As in boxing, shake hands and come out fighting. Anyone who thinks a tournament chess game isn't a fight, doesn't play.

Beautiful downtown Madrid at night.
Quoting John Brezina: "The 2022 FIDE Candidates tournament took place in beautiful Madrid Spain from June 16 to July 5. I was fortunate to attend rounds 4-7 at the beautiful Palace of Santona in central Madrid. It was exciting to be back at a Candidates tournament where we had two American players fighting for a chance at the world title, Fabiano Caruana and Hikaru Nakamura. The people of Madrid were very welcoming and I enjoyed my visit to their wonderful city. The architecture and beauty of the Palace of Santona provided a fitting environment for these eight top players and their battles over fourteen rounds."
The Palace of Communications and an interesting vehicle in the foreground traffic.
"The tournament was very well organized by FIDE and their Chief Marketing and Communications Officer David Llada. Many know him through his chess photography and book The Thinkers. This book helped inspire my own chess photo book, Faces Across the Board. He was kind and signed a copy of his book for me despite his busy schedule. The playing venue was near the Plaza de Santa Ana which made for beautiful walks around the area. All 14 rounds were sold out and extra tickets for nearby Club Argo provided fans another venue to play and watch commentary. Fans lined up early each day at the players entrance with hopes of a photo or signature from their favorite players. I always enjoy capturing these moments when fans get to meet the players and they kindly oblige the fans with photos, signatures and selfies."

Jan-Krzysztof Duda obliging fans...

...and a Richard Rapport fan taking a selfie while others await their turn.
"Ian Nepomniachtchi took clear first with an incredible 9.5/14 points and will face Magnus Carlsen once again for the world title. The only player to go undefeated and win both of his games against the nineteen year old and world number three, Alireza Firouzja. In round one Ian defeated Ding Liren and kept it on cruise control through the rest of the tournament. With four wins in the first half he became difficult to catch for the lead. He showed great control throughout his games. Chess fans were eager to meet the former challenger and now the new challenger."

GM Nepomniachtchi with a stare down directed across the board at GM Firouzja.
"After his first round loss, Ding Liren went on a seven draw run and then made three wins in a row to push him into a clear second place finish with 8.0/14. Teimour Radjabov slowed him down in round twelve by handing Ding his second loss. This set up a final round encounter with Hikaru Nakamura who was in second place with 7.5/13. Ding Liren was at 7.0/13 and a last round victory would secure clear second place whereas a draw would put Hikaru in second. The two played the Semi-Tarrasch which transposed in the Queen's Gambit Accepted. As pieces were exchanged and the position simplified, it looked as though Hikaru would hold the draw. But a mistake on move 35 by Hikaru allowed Ding to keep his rook on the seventh rank and that would prove fatal."

The game Teymur Radjabov vs. Ding Liren has begun.
"Hikaru Nakamura shared third and fourth place with Teimour Radjabov at 7.5/14 points. Hikaru and Fabiano would have the most decisive games, each with seven. Hikaru would bookend the tournament with a loss in round one to Fabiano and a loss in the round 14 to Ding. But in between he showed some great preparation and calculation skills with four wins."
Fabiano Caruana entering the playing room with something only he can see :-)
"His last round loss to Ding could come back to haunt him in the event that Magnus Carlsen does not defend his title, which was much of the talk throughout the tournament. In that case the second place finisher and first place would then compete for the world title. It is hard to imagine Magnus not defending his title that he has held for nearly ten years.

Teimour Radjabov had a strong showing with 7.5/14 points after a rough first half. He had withdrawn from the 2020 Candidates on COVID concerns and was given direct entry by FIDE to the 2022 Candidates. At 35 years he was the oldest Candidate player and showed that he still can play some incredible chess with his defensive skills. His two losses came from both the American players, Hikaru & Fabiano in the first half. But in round nine he got his revenge against Hikaru and finished out with wins against Ding Liren and Richard Rapport. He was gracious with his fans as all the players were, always stopping for a photo or signature."

GM Rapport and GM Nakamura sizing each other up.
"In fifth place was Fabiano Caruana with 6.5/14 points. A disappointing result after a strong first half where he just trailed behind the tournament leader. His three wins and four draws in the first half showed that he was in great form and it looked as if he could once again become a challenger to Magnus. But round eight would change his trajectory as his compatriot Hikaru Nakamura would hand him his first of four losses in the second half including two back to back losses against Duda and Ding Liren. This was certainly not the Fabiano that we were used to seeing at these high level events."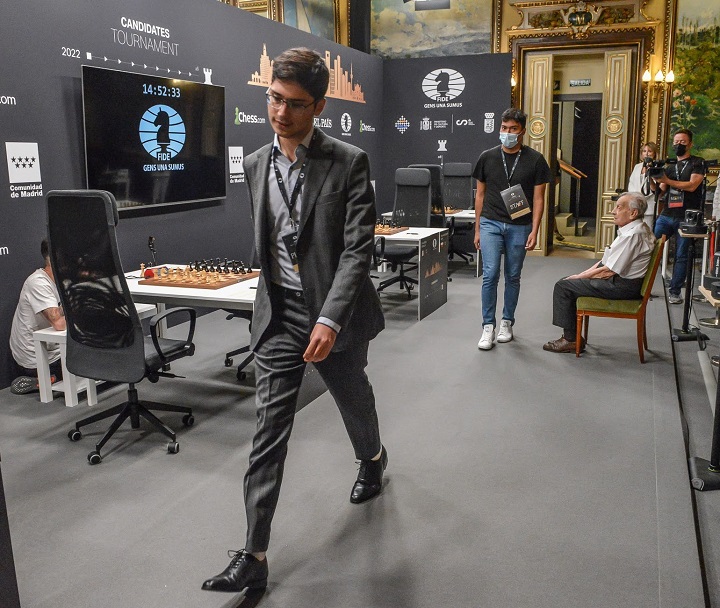 GM Firouzja striding to his board.
"Alireza Firouzja took sixth place with 6.0/14 points. The youngest participant and number three in the world, his meteoric rise to the top had much pressure and expectations for him to finish strong. But two first half losses to former experienced challengers Ian Nepomniachtchi and Fabiano Caruana kept him too far back in the pack to recover. At only nineteen years old, Alireza no doubt gained much experience from this event and he showed much professionalism. His brother Mohammadreza was often seen in the spectator hall and chess hall where he was taking on all challengers in blitz."
And the high stakes games are in progress.
"Jan-Krzysztof Duda and Richard Rapport rounded out the last two spots with 5.5/14 points. Duda's great fighting spirit was only able to yield one victory over Fabiano Caruana. And that coupled with his four losses put him in last place. A similar story for Richard Rapport with his only victory coming against Duda and his four losses gave him a share of last place. Both of these player's scorecards do not reflect their strength and play. But against such strong opposition and such a high stakes tournament, some great lessons are learned."
Highly respected Manuel Alvarez Escudero.
"Each round brought out new guests to make opening moves and I was especially fond of Mr. Escudero. He was invited to make the opening move in round five for Alireza Firouzja, the youngest player at 19 years old. I mention this because Manuel Alvarez Escudero is 100 years old, 81 years his senior. He had recently played and won for his team in the league of Madrid. They had treated him as a celebrity around the playing hall and chess rooms. Local stations were interviewing him and he played some chess with some of the organizers including Dana Reizniece-Ozola, Chairwoman and FIDE Technical Delegate. It was quite fun watching him being whisked around from each station and the receptions he received. You could see the enjoyment in his expressions and the fun he was having whether playing chess or meeting everyone. I am half his age and hope to still be enjoying chess at 100! What a great game this is to be enjoyed a full lifetime."
Acting as a fan, GM Maurice Ashley asks Fabiano Caruana for his autograph.

"Throughout the event other celebrities would occasionally appear. During my time I was fortunate to run into commentator extraordinaire Maurice Ashley. He played some chess with some dignitaries and then entertained the crowd by acting as a fan waiting for an autograph from Fabiano Caruana. A surprised Fabiano kindly obliged and caused a few laughs. Another day the blind fold chess king Timur Gareyev stopped in for a bit of entertainment before heading over to a local blitz tournament. He always creates quite a buzz with his eccentricity and kindly signed autographs for fans. It would be nice to stay for the entire tournament as later on figures such as Judit Polgar, Anish Giri, Vishy Anand, Alexandra Kosteniuk, and even Magnus Carlsen made appearances in Madrid."
GM Timur Gareyev (center, wearing a hat) is in the audience listening to the commentary...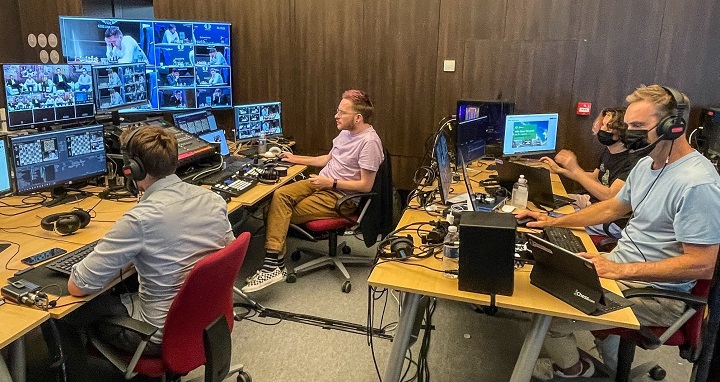 ...provided by the backstage broadcast commentary crew...
...and here we have possible future candidates...
...and perhaps this young lady and gentleman also.
"In addition to the tournament I was able to explore beautiful Madrid each day. The old city walking tour is quite remarkable with stops at Plaza Mayor and the grandeur Royal Palace. But my favorite was El Retiro Park each day in central Madrid. Also known as Parque del Buen Retiro, translated as Park of the Pleasant Retreat."
The entrance to the "Park of the Pleasant Retreat"...
...Fantastic sculptures can be found throughout the park.
"And what a pleasant retreat it is. Any time of the day you can find many locals and tourists enjoying the gardens, lake or cooling off in the canopy of trees. And a hidden gem in the middle of the park near Palacio de Cristal is the Asociación Amigos del Retiro. A chess park run by many retired locals where people meet to play chess, cards, or simply relax. Mostly outdoors but they also have a booth and shelter with concessions and a library of books to enjoy, or just meet up with friends."

John Brezina playing Black against a local Madrid player. Whom I'm sure won the game :-) Note: John has informed me that he did in fact win this game. Dude must have blundered :-)
"I enjoyed meeting many of the local players and even played a little blitz. I missed some of the celebrities that later came around including Hikaru Nakamura, Anish Giri, Judit Polgar, and even Magnus Carlsen. Hikaru first played with locals at the park and posted it on his Twitter page. Then Anish had to get in on the action and posted pictures on Twitter of himself and Magnus playing. Much buzz was created when Judit won a blitz game against Magnus in the park. Oh to have been there for that!"

An artist capturing local chess players in action.
"Congratulations to Ian Nepomniachtchi on his win and earning the right to challenge Magnus Carlsen. It will be interesting to see where and when the World Championship match will take place in 2023. The Grand Chess Tour continues, and the Sinquefield Cup in September will be your next chance to see World Champion Magnus Carlsen in the US. The amount of chess tournaments returning over the board and all the online tournaments bodes well for our great enduring game. What a great community we have to be proud of as members."
Anywhere in the world a community of chess players can be found.
"I'm so honored to be able to capture just a small bit of it in my photos. Even on my flight home from Madrid, chess is still going on at 30,000 feet. I notice a gentleman in front of me playing chess on his seat back screen. Sure enough I look and there it is on United's entertainment, the Play Magnus App. How about that?"
"I've included the link to many of my Candidates tournament photos below. In addition there are links for more info on the Candidates, the chess park club in Madrid, and the ever entertaining Tweeter Anish Giri. A big thanks to JC MacNeil for putting this together to share with the DCC community." It's me thanking you, Mr. Brezina...