DCC May 2022 Report
11:51am Thursday, June 2nd, 2022
... it's clear that all three sections are highly competitive.
Clearly the Denver Chess Club is doing something right. As you can see in the heading photo, it isn't just old men playing chess at the DCC. After the fantastic registration for the recent Denver Open, we once again had over 100 players playing at least one game on Tuesday night. I imagine that the USCF loves us since we are signing up new USCF members on a regular basis. What I most like is that we are steady. Players know what to expect on Tuesday night, and it's totally free for casual players. I also like that we do not require a DCC membership. Although, if you are so inclined, joining the DCC supports the club and enables us to have weekend tournaments like the Denver Open, our annual Tribute to Martin Luther King, and the DCC Fall Classic. We would like to add another major weekend event or a couple of one day Quick or Blitz tournaments, but hotel costs have gone through the roof.
Of course, old men still play chess at the DCC. Grayson Manuel is looking on as his dad, Jeff Manuel, is playing one of them.
The low entry fee for the Tuesday night USCF rated games makes a monthly prize fund that is well over 1000 dollars each month. Our three sections make it possible for anyone to win prize money. Win one 1st, 2nd, or even 3rd place prize and that will cover your yearly USCF membership, your monthly entry fee, and leave money in your pocket. I especially like that the DCC also pays out a monthly 20 dollar Upset prize for each section. The winner gets extra rating points and lunch money :-)
NM Brian Wall, the grand old man of the DCC, giving a lecture before the start of the round. The DCC intends to now have instructive lectures at least once or twice a month. Login to see the lecture schedule. (scroll down)
So, speaking of prize money, here are this month's winners. In the Premier section, not Unrated for long, Jorge Rubio took a 1st round bye then won four games in a row to take clear 1st place and win 216 dollars and 10 cents. Notably winning against NM Chris Peterson in round 4. Everyone knows Chris just doesn't lose many games. (see diagram #7 and #11 below) Mr. Rubio also played very well in the Denver Open. Mr. Peterson, and getting stronger by the game, Craig Moffit share the combined 2nd and 3rd place prize, with each player winning 108 dollars and 5 cents.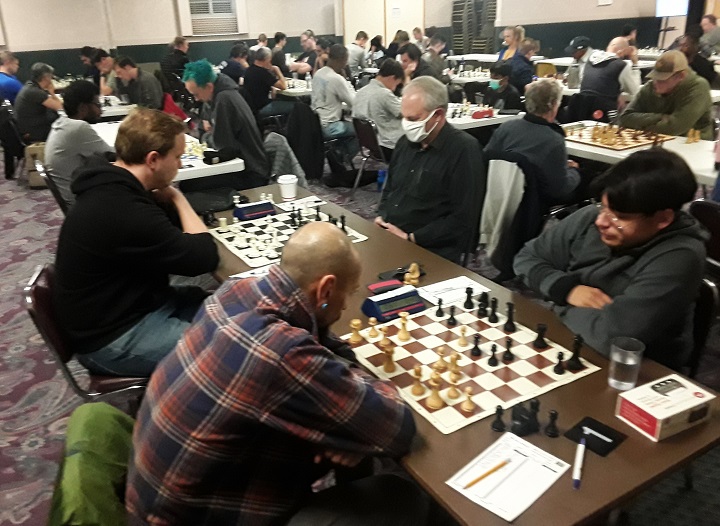 Juan Brenes, in the plaid shirt, is playing Jorge Rubio. Chris Peterson is playing White against Mike Maloney on the other board.
The 20 dollar Premier Upset prize was won by Sikander Nagar-Baker (diagrams #1 and #2) for his huge 1st round win against none other than NM Brian Wall. Turpana Molina not only also upset NM Wall, but he also beat the DCC President, NM Richard Shtivelband. Further proof that Mr. Molina (diagrams #3 and #5) is not to be taken lightly. Rowen Oregel (diagram #6 and #12) also had two greater than 400 point rating difference upset wins. The youngsters, Abhijay Balamurugan and Grayson Manuel, also scored big upset points.
Sikandar Nagar-Baker with the Black pieces, about to take rating points from Brian Wall.
In the U1900 section Jeff Nohrden took clear 1st place with a perfect 5-0 score and won 209 dollars and 45 cents. For once I wasn't one of his victims :-) The DCC 2022 U1900 Champion, Kristopher Zelkin won the 125 dollars and 67 cents 2nd place prize with 4 points. Losing only to Mr. Nohrden in round 4. Jason McEwen (diagrams #10 and #18) also had a chance to take 1st place but lost to Jeff in the last round. I think Mr. Nohrden will be moving up to the Premier section before long.

Jeff Nohrden has been winning all his games at the DCC.
Mr. McEwen along with Luis Jimenez, Drew Tuck, Phil Brown, Randolph Schine, and yours truly all end up with 3.5 points and we each win 13 dollars and 96 cents. I'm going to Burger King twice :-) I was dead lost to Mr. Schine in the last round but managed to hold a draw with a wrong color Bishop swindle. Other than his 1st round win, all of Mr. Schine's points were upset wins and draws. I don't know how many games Mr. Schine has played at the DCC, but I wouldn't be surprised if it was 3,000 or more. Seriously. The actual 20 dollar U1900 Upset prize was won by Glen Holguin for a huge 3rd round win over Michael Igoe. Phineas Hagg and Seth Fortinsky both had big over 300 point rating difference upset wins.
Mark Fischer has made his move, hit the clock, and Randolph Shine is ready to go.
The U1500 section was won by Alec Sottile with a 4.5 point score, which included a last round upset win over Joe Beane. Mr. Sottile wins 209 dollars and 45 cents for his fine performance. Unrated Paul Morgan took clear 2nd place with 4 points. Only losing to Mr. Beane in round 3. Mr. Morgan takes home 125 dollars and 67 cents.
Wearing a hat, Joe Beane is playing Alec Sottie
Brandon Morris had also finished with 4 points, but that included 2 byes. DCC policy is only one bye counts towards prize money. Therefore he ended up in a three way tie for 3rd place with Joe Beane and Morgan Showen, and they each win 27 dollars and 93 cents. Trent Ogas won the actual 20 dollar U1500 upset prize for his enormous 966 rating point difference win against Aaron Reale. Mr. Ogas also upset Petra Lambert-Gorwyn, who is not at all easy to beat. Also having nice upset victories were Patrick Kubanyi, Dan Nolan, and Brandt Finch.

As usual, I cannot resist another DCC Tuesday night room shot ;-)
Again noticing how many upsets there are in each section month after month at the DCC on Tuesday nights, it's clear that all three sections are highly competitive. And it's clear that when you play, it might be better to not know your opponents rating till after the game. Avoiding the assumption that a lower rated player will be an easy win. Sometimes I'll see a sweet tactic, but there is what I think is a hard to see defense, and I'll think maybe my lower rated opponent won't find it, and I'll win easy. Then they play the only move without a thought and I'm busted :-)

Congratulations to all the prize winners and thanks to everyone who is playing at the Denver Chess Club on Tuesday nights and in our weekend tournaments. Most of the pictures used in this DCC report were taken by John Brezina. I can't thank Mr. Brezina enough for the excellent photography that he shares with the DCC and allows me to use. Pictures tell the story. See all of his photos from round 1 here.
Games Section. Thanks again to Sikander Baker-Nagar and others for uploading games to DCC Games
1) Sikander Baker- Nagar vs. Craig Moffit. Round 2. Earlier Sikander had sacrificed an exchange to weaken Black's King position and pawns. After 28. Bh6 Black has a choice of which Bishop to capture. What is your choice?

2) Brian Wall vs. Sikander Baker-Nager. Round 1. In this position, after 26...Kd7-e8 there is essentially only one good move. Hint: It is not 27. Qd2, as played in the game. Brian admits he was "quite stunned" when he saw what the computer, Sullivan McConnell, and Sikander would have played. See NM Wall's complete analysis of the game below after the last diagram.

2a) the same game White has just captured a Rook with 35. Rh8xh1. Find mate in 5. Only preventable by fatal material loss.

3) Turpana Molina Vs. Brian Wall. Round 3. In this position, after37...a5, find mate in 4. If ever there was a time when Brian Wall got mated on the board twice in one tournament, I'd be really surprised. Although I am sure, rather than resigning, Mr. Wall allowed the mate on the board as a way of showing respect for his opponents. Kind of like when Bobby Fischer stood up after a world championship game and applauded Boris Spassky.

4) Grayson Manuel vs. Brian Wall. Round 2. It's only fair to show a game where the grand old man of Colorado chess gives mate. White has just played 23. Qd1-e2. Find the easy mate in 3. Which I'm sure NM Wall seen coming a few moves before this position.

4a) the same game NM Wall asked me to include this position. After 17. Nc5 it is Black to move. What would you play? Hint: Quoting Brian Wall "Bodyguards are worth a piece" See Brian's other remark after the last diagram.
5)
Richard Shtivelband vs. Turpana Molina
. Round 1. NM Shtivelband's comment on this game is, "A real back and forth game that went Turpana's way in the end." After 25...Ra8-d8? How could White essentially force a draw in this position?
6)
Rowen Oregel vs. Richard Shtivelband
. Extra rated game while NM Shtivelband was also playing another opponent. A mini simul ala Brian Wall. After 25. g4 How does Black force resignation?
9) Juan Brenes vs. Turpana Molina. Round 2. After a pawn exchange on d5 with 19... exd5, it's White to move and win a piece.

10) Jason McEwen vs. Glen Holguin. Round 2. I'm always glad to see Mr. McEwen's games in DCC Games. Because he helpfully explains his thought process throughout the game, rather than giving dense move analysis. In this position he played 15. Nc3-b5. Do you see a better move?
11) Christopher Motley vs. Chris Peterson. Round 2. After 18. e4. What move in this position forces White to resign.
12) Mike Maloney vs. Rowen Oregel. Round 2. Same thing in this position. White resigns after Black's next move.
13) Lex huberts vs. Abhijay Balamurugan. Round 2. After 27. Ne7-g6+. How does Black win 2 pieces for a rook?
14) Seth Fortinsky vs. Ian Lieberman. Round 2. After 27... Qb7-f3. Find a winning move for White.

15) J.C. MacNeil vs. Guillermo Lozano. Round 2. Final position. Early in the game I allowed ...Bh4+ which forced a King move, or dropped a key pawn. So probably making the wrong choice I moved the King. And now the same damn Bishop has reappeared on h4 and I had to resign.

16) Guillermo Lozano vs. Bill O'Neil. Round 4. The game score says this game was against Bill O'Brian, but there is no such person on the player list. So I believe it must have been the long time DCC player, Bill O'Neil. Anyway, after 27... Qf5-c8 White played 28. e6. Can Black take the pawn? If not, why not?

17) Haroun Mueller-Omar vs. Glen Holguin Round 5. Like Jason McEwen, Mr. Mueller-Omar also provides excellent instructive game analysis. In this position Haroun says, "I didn't see this mate till it was right in front of me." Now it's right in front of you. White to play and force mate.

18)
Jeff Nohrden vs. Jason McEwen.
Round 5. More helpful articulate comments from Mr. McEwen. In time pressure in this position after 37. Rc3-c7 Black plays ... Nxb4, and says "... a huge blunder that I saw right as I moved. "What did Jason see too late, and what would have been a possible winning move?
NM Brian Wall's remark on diagram #4a
After 17 ... Bxh3 +1.3 for me Black is up a pawn and 18 gxh3 Qxh3 just makes things worse for Grayson with his King exposed. -2.3

NM Brian Wall's analysis of diagram #2.

My opening was a failure where I was hanging on for dear life with nothing for my pawn until 22 ... Nxc3? 23 Nxc3 Rxc3 24 Rxb7 allowed me to equalize.
Then 24 Rxb7 Rc1 25 Rb8+ Rc8 26 Rb7 Rc1 27 Rb8+ Rc8 28 Rb7 Rc1 29 Rb8+ Rc8
would be a draw, instead
22 ... Nxc3? 23 Nxc3 Rxc3 24 Rxb7 Rc1 25 Rb8+ Kd7?? 26 Rb7+ Ke8

and now Sikander can no longer castle and I am winning.
The computer, Sullivan McConnell and Sikander quickly found the elegant solution.
27 N or R to e1 Rxe1 28 N or R x e1 Qxe1 29 Rb8+ Kd7 30 Rxh8
My Queen does a great job guarding everything from f4 and I am the exchange up safely
I had 16 minutes left and thought for 7.
I was quite stunned when the computer showed me the answer later.
The adventure continued.
My last chance for a draw was
22. Ree2 Nxc3 23. Nxc3 Rxc3 24. Rxb7 Rc1 25. Rb8+ Kd7 26. Rb7+ Ke8 27. Qd2 Rh1+ 28. Kg3 Nf5+ 29. Kf4 g5+ 30. hxg6 fxg6 31. Rb8+ Kf7 32 Rb7+!

Black can go many ways. The worst is 32 Rb7+ Ne7?? 33 Rxe7+! Kxe7 34 Qb4+ and wins
If Sikander aims for c8 after 32 Rb7+ Ke8 33 Rb8+ Kd7 34 Rb7+ Kc8 then I am alright after 35 Qb2 and a few others
If Sikander aims for 32 Rb7+ Kg8 33 Rb8+ Kh7 34 Rb7+ Ng7 then I am OK after 35 Qb4
I had 5:43 left on Move 32
Thanks again to all,
J.C. MacNeil