DCC September 2021 Report
12:26pm Sunday, October 3rd, 2021
... and a good feeling about their experience of playing real live over the board tournament chess...
What I like most about the reopened Denver Chess Club is the consistency of the attendance. All the new players we are seeing are showing up week after week. Borne out by the fact that we have had over 60 tournament players each week - in addition to several casual players - for eight straight weeks, and nobody is complaining about anything. So for the lead off to this report I'll do the complaining :-) My first and only complaint is the absence of higher rated players at the DCC.
But as it turns out, according to the USCF Top Players in Colorado, very few of the over 1900 players listed (whose names that I recognized) are in the Denver area. So I'm reduced to begging for Micheal Mulyar, Lior Lapid, Neil Bavikatti, and the McConnell brothers to play every Tuesday. If they would, along with Kevin Seidler, Jesse Hester, Mark Krowczyk, Daoud Zupa, and Davin Yin, we would have an awesome Premier section. Brian Wall and Richard Shtivelband have rating points to give you. Or maybe I should say, for you to take :-)

Richard Shtivelband playing White against Mirza Peljto

I am glad to say that there are several strong new to the DCC players that hopefully intend to play regularly. I believe Mirza Peljito, George Woodbury, John Curcuru, and Habtamu Aseged, are capable of taking rating points from anyone. It is my opinion that while lower rated players are the heart and soul of the DCC, it is the higher players in attendance that give our club its prestige and enhance our reputation. In addition to inspiring the "weak sauce" - Brian Wall's term for anyone rated less than 2200 :-)

Habtamu Aseged with the Black pieces against John Curcuru.

At the DCC on Tuesday nights, I am always encouraging casual players to "play chess for real". Real because they have put up their money to join the USCF, paid a tournament entry fee, and perhaps also joined the DCC as well, and that is not an insignificant cash layout. I then like to point out that by winning one DCC tournament 1st place prize, or even a 2nd or 3rd place prize, they will likely recoup all, or most of the initial expense. After that, in my mind, any prize money is free money. Also real is getting a USCF rating. Which is significant in that it is a true indication of chess playing strength, as opposed to some online rating.

Casual players are always welcome at the DCC

While winning prize money can't be bad, I believe most tournament players are playing for the rating. The reason being that regardless of a player's initial rating, moving up to the next higher USCF rating class is not something that just anyone can do. Ask any IM what it takes to be a GM. Ask any Class A player how hard it is to become an Expert. The motivation and self satisfaction of striving and accomplishing a difficult endeavor is worth far more than pocketing a few extra dollars.

National Masters, Brian Wall and Richard Shtivelband, battling it out in the last round.
So then, who gained rating points and won "free money" in the DCC September tournament? In the sparse registration for the Premier section, NM Richard Shtivelband won his first 3 games and then won $153.34 when Brian Wall noticed a 3 fold repetition of the position had occurred in their last round game. Richard agreed and the draw gave him clear 1st place with 3.5 points. (See diagram #7 below) Mr. Wall and Vedanth Sampath each finished with 2.5 points, and they each won $76.67. Vedanth has clearly improved his game over the 17 months that the DCC was closed. The youngster is now running with the big dogs.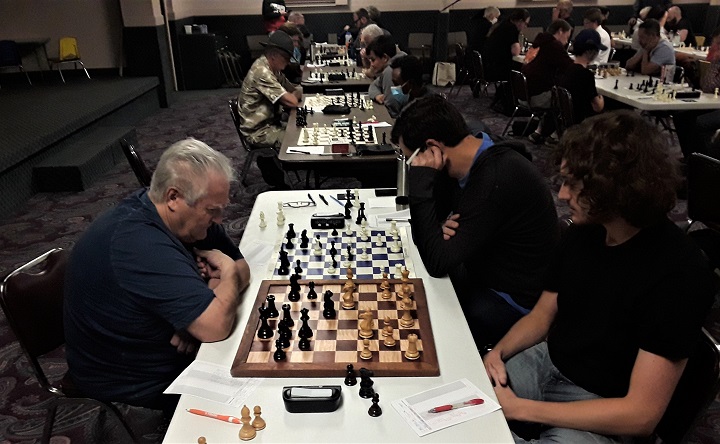 Brian Wall with the Black pieces simultaneously playing Yoesf Gross and Mirza Peljto
Brian lost on time to Habtamu Aseged (diagram #8) in round 1 while also playing an extra game against Josep L'Hommedieu. Mr. Wall also played a mini-simul in round 3 against Yosef Gross and Mirza Peljito and won both games. Playing two serious rated games with both clocks running is not at all an easy thing to do. The DCC appreciates our President's willingness to do this, so that the odd man out in a section still gets a rated game. The $20.00 Open Upset prize was won by no one. Vedanth had an 80 point upset over George Woodberry and Mr. Wall had a small 12 point upset draw against Mr. Shtivelband, but their share of the combined 2nd and 3rd place prizes was a greater value. There were no other upsets in this section.
Jack Lesczynski with the white pieces against long time DCC member, Randolph Schine

The excellent registration of 38 players in the U1900 section resulted in a highly competitive race for the prize money. Jeremy Roldan took clear 1st place with a perfect 4-0 score and won $138.83. Not to take anything away from Mr. Roldan's fine victory, but all his wins were against lower rated players. On the other hand the 2nd place prize of $83.30 was won by Jack Lesczynski, whose 3.5 point score was all upset wins and a last round draw against the real strong Ken Doykos. The combined rating point difference between his and his opponents ratings was an astounding 1257 points. I think it's safe to say Mr. Lesczynski's 1243 rating has not caught up with his game.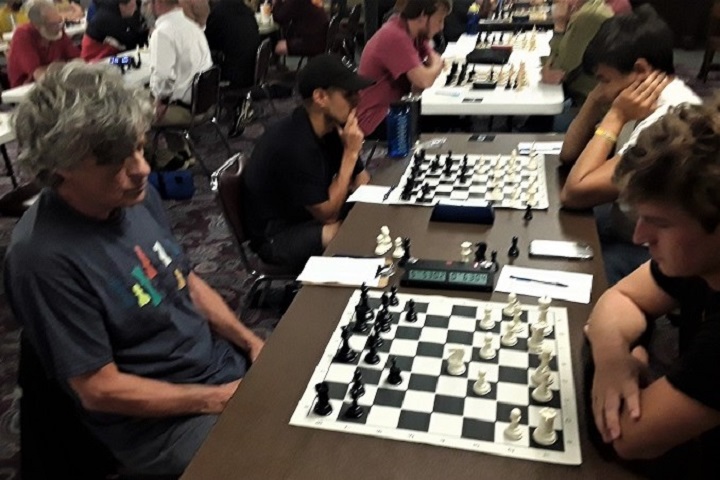 In the foreground Ken Doykos has the Black pieces against Mr. Lesczynski. Jeremy Roldan has the White pieces against Kristopher Zelkin on the other board.
There was a 6 way tie for 3rd place. Phil Brown, Mr. Doykos, Joseph Timmer, Turpana Molina, Kristopher Zelkin, and Sikander Baker-Nagar all ended up with 3 points. Sikander (rated1295) had byes for rounds 1 and 2 then 2 big upset wins. One against yours truly where the youngster simply out played me, and the other against 1704 rated Lawrence Reifurth. Sikander won't share the prize money due to the DCC policy of only one bye counts towards prize money. But he will deservingly win the $20.00 U1900 Upset prize. The other players mentioned will each win lunch money :-)

Paul Kullback, playing White, looks pleased with his position against Blake Dittman
The 33 player U1500 section also resulted in 4 rounds of competitive chess. Nash Nichols won the 1st place prize money of $138.83 with a can't do better than a 4 point score. Longtime DCC member Paul Kullback and new to the DCC, Torin Brown, share the combined 2nd and 3rd place prize of $138.84 The $20.00 U1500 Upset prize was won by Lev Shulman for his fine 297 point upset over Kamron Correia in round 3. Another big upset in this section was Jackson Trust winning against the strong Mark Zeringue.

The last games to finish always attracts kibitzers ready to say why didn't you do this or that :-)
Once again in this report I am naming prize winners that are new to the DCC and that can't be anything but good. We strive to welcome new players and hope they come away with a good impression of the DCC, and a good feeling about their experience of playing real live over the board tournament chess for prize money and USCF rating points. While at the same time enjoying the social aspect of the DCC.

As players wait for the round to begin, the social aspect of the DCC is evident in this and the heading photo.
Congratulations to all the prize winners and a big shout out to the DCC Tournament Directors for getting the rounds started pretty much on time each week this month. Now if they can just continue to do that week by week in October :-)
TD Brian Ledsworth playing White in an extra game against Dan Ruparel.

The Games Section could be greatly improved if more DCC players would post their Tuesday night games to the DCC Games Upload page. The PGN generator I use is Caissa's Web In preview make sure the Tuesday night date is month/day/year. Games are ordered by date. Of course games from other tournaments or online games can also be posted. As we are doing this month with some instructive "Surprise Checkmates" from blitz games that Brian Wall played online.

2) gvo vs.Super GM Brian Wall After 40. d6 The Super GM has mate in 3.

3) Ybbs vs. Brian Wall In this position, how did Mr. Wall refute 47. Kh4?

4) Super GM Brian Wall vs. Elvin_M In this position when Black plays 33...Kg5, find the mate in 3.

5) Super GM Brian Wall vs. SvetlaYordanova After 38...a2, White looks dead lost. Find the move that leads to a perpetual or checkmate.

7)
Brian Wall vs. Richard Shtivelband.
Round 4. In this position Brian played 52... Qb8+ and both players stumbled into a 3 fold repetition of the position draw. Brian is always searching for the truth in every position and in analysis found he had a "real draw" with a better move. What is the best move to secure the draw? See Mr. Wall's answer after diagram #9.
8)
Habtamu Aseged vs. Brian Wall
Round 1. In what must be a winning position for Black, Mr. Wall's flag fell. As mentioned above, playing two games at once is not an easy thing to do.
9)
J.C. MacNeil vs. Robert Herbst
Round 4. I finally played a decent game and I couldn't resist adding it to this report. In this position and in time pressure Robert played 24... Kf7. Why was that a losing move?
Brian Wall's comments about Diagram #7:
"I tried for a perpetual without really believing in it. Richard seemed surprised when I claimed a three-fold repetition like
Fischer Petrosian 1971.The computer found a real draw with 52 Qe7!! ="
Brian then compliments his opponent with, "
Richard only spent 24 minutes for the game but I was the one making
all the mistakes.
A draw clinched tournament victory for the honorable Mr.Shtivelband.
Congratulations."
Thanks again to all,

J.C. MacNeil