DCC 2020 April Report
12:46pm Friday, May 1st, 2020
Gunnar berserks nearly every game and wins quickly regardless of who he is playing.
When we had to cancel the last 3 rounds of the 5 round March tournament as a coronavirus precaution, we thought we would just play those rounds the last three Tuesdays of April. That plan went out the window when Colorado was sensibly ordered to stay at home by Colorado Governor Polis. Then we thought we will just delay the games till the last three Tuesdays of May. That didn't work either when Denver Mayor Hancock extended the Denver lockdown till May 8th. Consequentially the DCC is now not planning to meet till June 9th. The heading photo is a John Brezina shot from the 2020 Tata Steel Tournament. When will we see a crowded tournament room like that again? Or a crowded room like this at the DCC.
A typical Tuesday night at the DCC before the pandemic. (John Brezina photo)
We then decided to have the June tournament (if there is one) start with a clean slate. By submitting the 2 round March tournament and the match games to the USCF to be rated. Also to pay out prize money as if March had been a regular DCC monthly tournament and with the intention of giving the players who paid for the month a 10 dollar credit (or for juniors, 6 dollars) when we resume playing on Tuesday night. And hopefully, the room will look like this again...
... and again be one of the best chess clubs in the country. (John Brezina photo)

The DCC Treasurer, Meint Olthof, intends to mail checks to the March prize winners in each section. If your name appears in this report as a prize winner and you haven't received a check by May 15th, contact Meint at 720-390-6984 or by email to molthof1@comcast.net Otherwise, your prize check will be available when we are again meeting on Tuesday nights. You may also contact Meint if you wish to receive any credit due by a mailed check.
Meint Olthof at the board. (see diagram #5 below)
Surely by June federal, state, and local governments will have a clear idea of if the coronavirus curve is flattening, as well as having widespread testing in place. Worse, of course, would be to see spikes in the curve from the partial reopenings that are occurring across the country. Wait, above I included the federal government. When I should just say maybe the state and local governments will have some idea. The federal government "task force" seems to be more interested in currying political favors instead of working to provide desperately needed hospital supplies and virus testing capability. Fortunately, we have pragmatic state governors and local officials that are more interested in looking out for our health.
A tip of the hat to the doctors and nurses who are daily risking their lives to save others.

Quoting New York Times White House correspondent, Peter Baker: "The total number of coronavirus cases in the United States exceeded one million. The American death toll surpassed that of the Vietnam War. And the economy was reported to have shrunk by nearly 5 percent. But the White House on Wednesday (04/29) declared its response to the crisis 'a great success story'."
Makeshift hospital beds are being placed wherever space is available.

With a complete and utter lack of rational or coherent guidelines from the federal government, I and i'm sure many DCC players are wondering how exactly will we ever get back to normal with all the uncertainty swirling around the coronavirus. The current occupant of the oval office claims "total authority" yet also claims not to be responsible for anything, unless it favors him politically. If people die from his suggestion of drinking bleach and injecting Lysol, that's not his problem. We have a President who is beyond the pale.
This man was a presidential President...
...but this one is certainly not.
My apologies. This is supposed to be a DCC tournament report and not political commentary from some politically ignorant liberal Democrat.
Alayne Wilinsky at the board on a DCC Tuesday night.
Before getting to the DCC March tournament report, let me review how well Alayne Wilinsky's Tuesday night DCC blitz tournaments are going on Lichess. There is an excellent average weekly participation of over 40 players. Alayne is alternating between a 3 or 5 minute, with no increment, time control. Resulting in an astounding average of over 300 games being played in the 90 minutes that the tournament lasts. I'm not going to try to explain the complicated scoring system here, but an interesting feature is the "Berserk" option. Clicking this before the start of the game cuts your total time in half, but adds a point to your score for a win. Stronger players use this to get more games. More games. More points. More fun.

A cropped John Brezina photo. I'm trying to make it appear Gunnar is looking at a computer screen.
These are especially strong tournaments, with usually 3-4 National Masters playing and several Experts. But it is becoming oblivious that when Gunnar Andersen (Andnar) is in the tournament, everyone else is playing for 2nd or 3rd place. Gunnar berserks nearly every game and wins quickly regardless of who he is playing. Resulting in nearly double the games and double the score over the 2nd and 3rd place prize winners. Will Wolf (brokenarrow69) is the Andnar of the U1900 players.
Surprisingly blitz pro, Brian Wall, has not yet won any prize money. (John Brezina Photo)
These tournaments are free entry with a prize fund of 100 dollars. The DCC has donated to the prize fund as well as Alayne putting in her own money. Several players have also donated their prize winnings. It remains to be seen how long this great idea can continue without charging an entry fee. See complete stats for tournaments 1-6 here . For more information on how the tournament works or to donate prize money contact Alayne at awilinsky@gmail.com
And now finally on to who won what in the abbreviated March tournament. In the Premier section, Rhett Langseth made it worth his while to drive up from the Springs with his crew of compadres. Rhett won both his games and wins 42 dollars. The combined 2nd and 3rd place prize of 41 dollars is shared by Richard Shtivelband, Neil Bhavikatti, and Kevin Seidler. All having 1.5 point scores. The youngster Aditya Krishna upset another DCC youngster, Davin Yin, to win the Premier Upset prize of 20 dollars.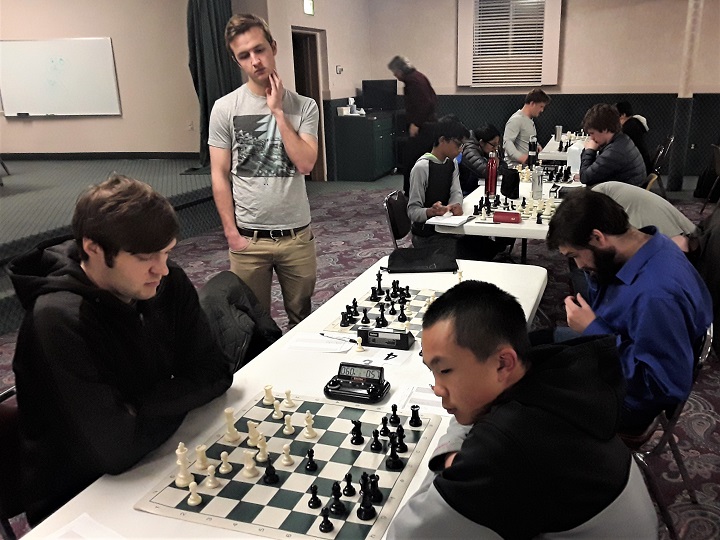 Rhett Langseth with the White pieces playing Davin Yin. Eamon Montgomery is observing.
In the U1900 section Phil Brown, Ken Doykos, and yours truly each had 2 wins and we each win 20 dollars. Along with Michael Kilian who wins the restricted 20 dollar unrated prize with his 2 points. I'm mad because I was certain to win all my games and take clear 1st place alone :-) Jason Britchkow won the 20 dollar U1900 Upset prize for his 398 point rating difference win against Rob Cernich. Alayne Wilinsky and Elijah Warwick also had big 300+ point upset wins.

Ms. Wilinsky had a big 300+ point upset win against Walter Lowe. (diagram #2 below) Elijah Warwick is playing John Krue.
Oddly in the U1500 section, it was the same story. The combined 1st 2nd and 3rd place prize totaled 80 dollars. Three rated players had 2 points and one unrated player also had a 2 point score. So Trent German won the restricted 20 dollar unrated prize. Leaving 60 dollars to be shared by Iris Li, Nash Nichols, and Vyacheslav Pupko. There was only one big upset in this section. Shankar Parasurm won the 20 dollar prize for his 368 point difference win against Roger Morris.

Iris Li playing Black against Charlie Flaxbeard. Vyacheslav Pupko has Black against Alex Sottile.
Congratulations to all the prize winners. Keep in mind the low total prize fund is due to March only being a 2 round tournament. I am hoping all players will be patient, and when the coronavirus is under control, we can get back to our usual monthly tournament with 60-70 players playing over the board chess each week. And we will all just be so...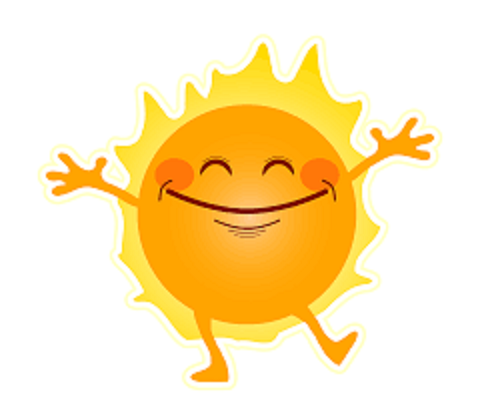 Games Section:

1) Griffin McConnell vs. Earle Wikle. Match game #1. Black has just played 14... Nf6-h5. Why is this a bad move?
2) Alayne Wilinsky vs. Walter Lowe. Round 1. Black has just recaptured with 19...Nf6xd7. How does White now win a piece?
3) Victoria Gordon vs. Stephen Goebel. Round 1. After 27. g4-g5 White probably expected a Queen move, What did Black play instead?
4) Earle Wikle vs. Griffin McConnell. Match game #2. Do you see how Black loses a piece in this position? Griffin nevertheless holds the draw.
5) Phil Brown vs. Meint Olthof. Round 2. Black's last move was 35... Qd7-d6 and White played the not bad move 36. Re6. What would have been a much better move?
Thanks to all,
J.C. MacNeil