Excellent John Brezina Reports and Photographs
1:43pm Thursday, February 6th, 2020
"...one would hardly imagine the best chess players in the world gathering."
In this report, John Brezina, Colorado's tireless world-traveling chess reporter, and superb photographer brings us news and pictures from a premier international event, a fun local tournament, and a star Colorado player's simul at the Denver Chess Club. Let's start off with Mr. Brezina's summary of Gunnar Andersen's simul. Followed by his report and photos from the Tata Steel tournament and his own Parker Chess Club tournament. The heading photo is an artistic shot of Mr. Andersen in action. As always. I am pleased to select and caption Mr. Brezina's outstanding pictures.
Quoting John Brezina at Gunnar Andersen's DCC Simul:
"Gunnar Andersen gave a 14 board simul to benefit the upcoming Denver Open in May. It was also the year end DCC pizza party where along with the simul many casual chess games were played. Gunnar kindly allowed me to photograph the simul where he faced some serious players including Colorado living legend, Brian Wall."
NM Brian Wall said he felt like he was playing blitz with Gunnar coming around so quickly.
"It was a fun evening of watching the simul, playing some chess and enjoying fellowship along with some good pizza. Thanks to everyone at the DCC for another great year of chess. And a special thanks to JC MacNeil for his tireless efforts managing the Denver Chess Club, helping me with these reports, and playing in my Parker tournament. Enjoy all the pictures and keep supporting chess and helping those new to our wonderful game"
Powered by a Snickers bar and water, Ricardo Bogaert was the only player to win against Gunnar.
John asked me to mention Gunnar's final score: It was an admirable 13 wins, no draws, and only one loss. I must say I was impressed by the speed and efficiency of Mr. Andersen's play. From start to finish in a little over two hours against strong opposition.
NM Andersen did occasionally have to stop and think...
... resulting in Rob Cernich assuming a classic chess player pose...
...and Ben Gurka was quite confident up until Gunnar smashed into his Queenside.
Quoting John Brezina from the 2020 Tata Steel Grandmaster Tournament:

The Tata Steel tournament is held in Wijk Aan Zee on the shoreline of the North Sea.

"January on the coast of the North Sea in the small town of Wijk Aan Zee in the Netherlands, one would hardly imagine the best chess players in the world gathering. But anyone who follows chess knows that this prestigious chess tournament has attracted the best players in the world for 82 years. Names such as Euwe, Larsen, Petrosian, Spassky, Keres, Korchnoi, Taimanov, Anand, and Kasparov are just a few of the past winners."

A long list of famous players has played in Wijk Aan Zee.
"This year saw the return of the current World Champion Magnus Carlsen, who has won a record seven times. I have always wanted to attend the Tata Steel tournament and making it more special was my brother was able to attend as well. So after a flight to Amsterdam and a train ride to Beverwijk, a short bus ride brought us into the beautiful little coastal village of Wijk Aan Zee."
Mr. Brezina with his older brother, Mike...
.... at one of the best yearly GM tournaments. Held in this quaint Dutch village.
"Signs everywhere pointed to the Tata Steel chess tournament as it has been integrated here since 1968. Before that starting in 1938 it was held a few miles East in Beverwijk. Originally called the Hoogovens tournament, then Corus, and finally Tata Steel the last decade. The Tata Steel company is one of the worlds largest producers of steel and has been the main tournament sponsor."
We can only hope to have a playing room this full at the 2020 Denver Open.
"We stayed at the Hotel Het Hoge Duin right on the coast and just minutes away from the De Moorian playing hall of the Tata Steel. A nice hotel that was also a tournament sponsor and even held an amateur chess event. The hotel overlooks the North Sea with beautiful beaches and walking trails along the bluffs where old German bunkers remain from WWII. We walked back down into the village where the town was setting up chess activities for kids and the Café De Zon next to the playing hall had local commentary for the chess games."
GM Magnus Carlsen is pictured a record 7 times in the photo gallery of chess all-stars.
"Upon entering the De Moorian you encountered pictures of past winners all the way back to 1938. Looking around one could always catch a glimpse of well know chess players, such as former Dutch #1 GM Loek Van Wely. Inside the playing hall was setup for a large amateur tournament while the far end tables were set for the 14 Masters behind the 14 Challengers. Three U.S. players in the Masters group included Fabiano Caruana, Wesley So, and Jeffrey Xiong. We were only able to attend round eight but what a round it was."
Rising American star, Jeffery Xiong at the board...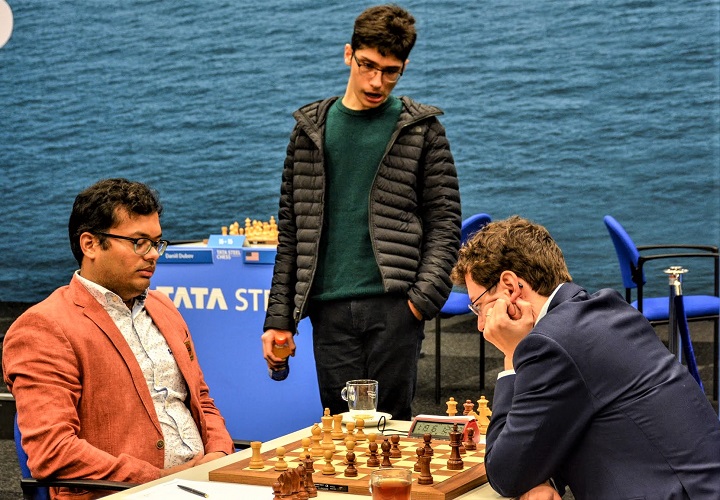 ...Rising Iranian star, Alireza Firouzja, observing a Challenger section game - Surya Ganguly vs. Erwin l'Ami
"All eyes were on tournament leader Alireza Firouzja, the young sixteen year old from Iran. Close behind was Caruana who played former World Champion Vishy Anand in an arduous six hour battle. But front and center another great match would take place between Magnus Carlsen and Nikita Vitiugov."
The North Sea backdrop they use at this tournament is just cool.
The current world champion and a possible future world champion, observing a former world champion playing another possible future world champion.
"The playing hall was not only packed with players but fans as well, as admission to this great event is free. Fans could only get so close to the top boards but screens helped display the moves. It was nice to walk around the hall and watch some of the amateur games as well. An upstairs balcony led to more tables and the commentary team of Peter Leko and Sopika Guramishvili, who is married to Dutch #1 Anish Giri."
Peter Leko and Sopika Guramishvili, commenting on the games.

"After a few nice pictures from high above the hall, I head back down to some amazing games. Magnus was looking for his first tournament win and was often seen kibitzing other games, primarily the leaders. Firouzja's game against Dutch player Jorden Van Foreest fizzled into a draw, opening a chance for Fabiano to catch the leader."
GM Jorden Van Foreest with the White pieces against GM Alireza Firouzja.

"Fabiano pressed throughout with the white pieces and got into an interesting endgame with a bishop versus rook, but also an advanced passed pawn. Magnus was watching closely as he was just trailing Fabiano in the standings, and once he sensed Caruana was possibly winning, it seemed to motivate him in his own game. Magnus would go on and win his first game over Nikita, extending his record in classical chess with no losses. It was evening now and most games were over, but Fabi continued to press his passed pawn. At one time he had two pawns on the seventh rank both supported by his bishop. Vishy put up a great defense but in the end both pawns could not be stopped and Fabi was now tied for first place. "

GM Fabiano Caruana played a great game against former World Champion Vishy Anand
"I followed the rest of the tournament back home and Magnus and Fabiano continued a great run. Firouzja who started strong ran in to the big three in the next rounds and chalked up three losses in a row to Carlsen, Caruana, and then Anand. Fabi went on to win his first Tata Steel with an incredible score of 10 out of 13 while in second was Magnus with 8 out 13, neither of which recorded a loss."
GM Caruana prowling the stage.
"The Challengers group should not be overlooked as it boasted some impressive players as well. Veterans such as Jan Smeets, Erwin L'ami, Pavel Eljanov, and Rauf Mamedov faced off against a field including three young teenagers. One of which tied for second place, Nodirbek Abdusattorov of Uzbekistan. But in clear first by half a point was David Anton Guijarro of Spain with 8.5 out of 13."
A young player in the Challenger's group
"Overall a great tournament for fans to watch and see their favorite players. After each game players would do their interviews and then all would exit through a door where fans could line up and get pictures or autographs. It was fun to watch the kids line up and wait with their items to be signed and pose for a photo taken by their proud parents. All the players were very gracious with their fans, especially Fabiano Caruana. I've been following him for years now and have always been impressed with the way he interacts with his fans, never turning away an autograph or picture. After finishing with all the kids and before exiting, he stopped by to say hi after seeing me."
Fabiano ruled the 2020 Tata Steel tournament.
"It was a thrill to introduce my brother to the number two player in the world and hopefully the next (second time) challenger to Magnus later this year. We spoke briefly about his game which he humbly stated "I got a bit lucky". If only we could all be so "lucky" making such great moves! I was also fortunate to meet and talk with another player, the young Vladislav Artemiev of Russia."
Russian GM Vladislav Artemiev interacting with fans...
... and here with our star reporter. John Brezina.
"After attending to some of his young fans, he stopped for a photo and we chatted briefly about the Grand Chess Tour and his hopes of getting a wild card spot. The following day was a rest day for the players so my brother and I toured Amsterdam before heading home. With such an embedded history of chess I can easily see why they call the Tata Steel tournament the "Wimbledon of Chess". "

Quoting John Brezina on his own Parker Chess Club Tournament:
With the growing popularity of this tournament, the Parker library has given Mr. Brezina more space.
"Shortly after returning I prepared to run our sixth Parker Chess Club tournament where 48 players turned out. New faces continue to show up including Jeff Baffo and some familiar faces such as Dean Clow, Dwight Sehler, Kevin Seidler and DCC manager JC MacNeil."
Dean Clow with his game face on.
Kevin Seidler with the White pieces against Jeff Baffo.
"Dean went on to win the Championship section going undefeated with 5 points and winning a copy of "Chess for Hawks" signed by author Cyrus Lakdawala. Dean humbly passed the book on to second place winner John Chavez who scored an impressive 4 out of 5 points against a strong field."
John Chevez with the Black pieces against Ron Rossi.
"In the Open section with 34 players, no player would get a perfect score. Tournament regular Kumaran Lenin only gave up one draw and took clear first with 4.5 points. Overall another great turnout of players of all ages and skill levels."
This is what's great about chess. It's for all ages. Men and women, boys and girls...
...and clearly this young lady is enjoying her game...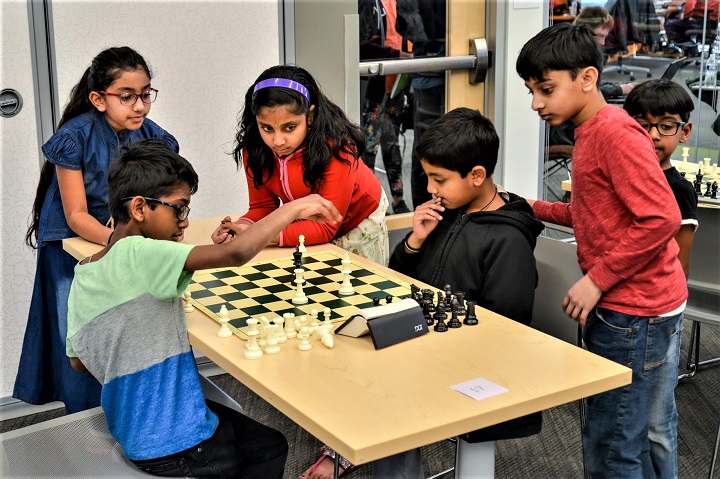 ...and here the friends eagerly wait to see if he plays the right move...
... and I'm sure Ilya Stolpovskikh is happy to win the 3rd place trophy...
... obviously Mike Miyaki is pleased to take 2nd place...
... and yes, that's Kumaran Lenin once again winning the 1st place trophy.
Real nice of the Championship section winner, Dean Clow, to pass on his prize to John Chavez.
"Fun to see kids and adults play in their first chess tournaments and hopefully this will motivate them to continue on to rated tournaments. Thanks again to Dean Clow for Caissa Chess and all his help. - John Brezina, Parker Chess Club."