2019 London Chess Classic Report
3:00pm Wednesday, December 18th, 2019
"There was something going on for any type of chess fan..."
The stage is set in London... Once again John Brezina, our local globe trotting chess reporter, brings us an excellent report from the International chess world. This time from the 2019 London Chess Classic, the grand finale of the FIDE 2019 Grand Chess Tour. In this report, Mr. Brezina also includes a summary of the British Knockout Championship and the FIDE Open tournament that ran in conjunction with the main event. Plus he shares his impressions of the annual simul that the well known GM Jon Speelman puts on along with the London Classic kids tournament. In addition to several video clips we, of course, have Mr. Brezina's professional grade photography from all of the events. It is my pleasure to select and caption the photos.

... and the games are being played
Quoting John Brezina: "The 2019 Grand Chess Tour wrapped up an exciting year in London with the top four players of the tour. The number one qualifier was the return of the World Champion Magnus Carlsen to the tour with a commanding 67 GCT points. Joining him would be Ding Liren, Levon Aronian, and finally Maxime Vachier Lagrave who would qualify by a slim 0.3 point margin over Sergey Karjakin. These four players would not only be playing for the London Chess Classic title but a share of $350,000."
A school age kids tournament is part of the London Chess Classic,
"During the tournament many other side events took place including the British Knockout Championship and the London Chess Classic FIDE Open. Chess in Schools and Communities has been organizing the London Chess Classic since 2009 led by Malcolm Pein. Magnus Carlsen has won the event an amazing four times."

Four time winner of the London Classic, GM Magnus Carlsen, at the board.
"The Classic returns again to the Olympia London building in West Kensington. A great venue that can accommodate multiple big events. Upon entering the third floor is an open area with a large chess board and tables for casual chess. In the middle is a cafe open during the tournament along with a side room with a live feed from St. Louis for live commentary during the games. The same room had Maurice Ashley interviewing the players after each round. A great chance for fans to get near their favorite player and a photo or autograph. A separate room for VIP only had their own commentary team including Lawrence Trent."
Maurice Ashley interviewing Ding Liren.

Kids and spectators enjoying a game on the giant board.
"I arrived early before the second round and was able to catch part of the Junior chess tournament that had local schools from the London area compete. There were some serious players and it was fun watching teams be photographed with their trophies. Afterwards many of the kids played some casual chess on the big board in the hallway. Some of the top kid players were invited to make opening moves for the top boards at the London Classic."

This young man is playing Ding Liren's opening move...
... while this young lady moves for MVL.
"I was able to make it to the second classical game of the semi-finals which paired Carlsen vs. MVL and Aronian vs. Liren. They would play two classical games followed by two rapid and four blitz games on the third day. Both classical games were drawn by each and set up an exciting following day of chess. First to score in the Rapids in game one was Ding Liren. Levon Aronian was not playing up to his usual standards and it showed as he also lost game two which would require winning all four blitz games just to tie. And after drawing game one of their blitz match Ding Liren secured a spot in the finals."
A colorfully dressed Levon Aronian could not get passed Ding Liren.
"There was much talk and speculation of a Ding Liren and Magnus Carlsen final as a possible prelude to next years World Championship match. But the French number one Maxime Vachier Lagrave had something else in store. Their first two rapid games ended in hard fought draws setting up an epic blitz finale between two of the greatest blitz players. Game one ended in a quiet draw but game two shocked the crowd as Magnus Carlsen lost with the white pieces as he could not stop a pawn from promoting. Game three seemed to be heading for a draw when Maxime blundered and allowed Magnus to skewer his knight and rook, surprising and pleasing the World Champion. Back to a tie and game four would draw as no chances were taken."

First we fill out the score sheet and then we fight. (video)
"On to the two tie breaks which would then lead to an armageddon game if still undecided. The chief arbiter had the players draw colors and Magnus would start with white. It was becoming late into the evening at this point and it was announced to the audience that game one would start at 9:00pm. MVL appeared at the board and the crowd anxiously awaited the World Champion. As we all waited and watched the clock tick past 9:00pm, an uneasy feeling came over the arbiters and audience. After about five minutes even MVL appeared a bit concerned and it looked as though they may have to start Magnus' clock. After much scrambling and nervous arbiters, it was discovered that the original agreed upon schedule had the tie break games commencing at 9:30pm which team Magnus obviously were quite aware of. So a twenty minute break was announced, whew! Finally the time arrived."
After some confusion about the starting time, Magnus arrives at the board.
"As like clock work, Magnus appears and moves quickly to the board and shakes hands. It is quite something to be near him onstage as his presence is quite commanding as he enters and captures everyone's attention. After aggressive play by Magnus and preventing MVL from castling, it appeared to favor the World Champion. But MVL fought back and defended well and went into an ending with a knight and pawn which became unstoppable. After 82 moves Magnus would resign as his lone knight could not stop a queen from reappearing. Game two was a must win for Magnus. But MVL was playing incredible chess and holding his own with the World Champion. While all three decided games thus far were with the black pieces, this one would not. MVL played solid chess and after 44 moves Magnus, knowing the inevitable, graciously resigned with a smile and congratulated his opponent."
Quite possibly GM Ding Liren will be a future World Chess Champion.
"Thus setting up a final between Ding Liren and MVL for first and second place while Magnus Carlsen and Levon Aronian played for third and fourth place. Ding Liren who has had an incredible year won first place while Magnus won his finals match for third place. A great end to the Grand Chess Tour of 2019." [now pictures and a summary of the FIDE Open tournament]
The FIDE Open tournament playing room...
... and a couple of shots of a few players in the tournament ...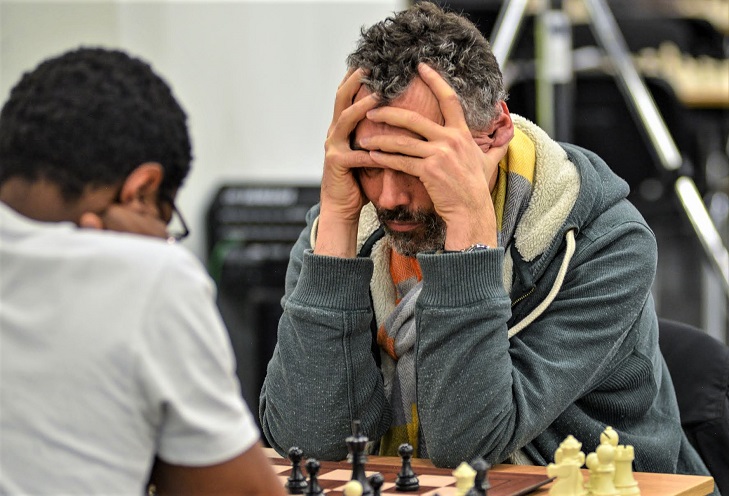 ... if I can just keep my head together ...
...while this young woman appears calm, cool, and collected.
Quoting John Brezina: "During all these games I would occasionally go over to the FIDE Open hall to watch some of the other games. This is where the British Knockout Championship was taking place with regulars Michael Adams, Luke McShane, David Howell and Gawain Jones. Mickey and David would play in the finals after dispatching their opponents."
GM Michael Adams, with the Black pieces playing GM Luke McShane...(video)
...and GM David Howell is playing GM Gavin Jones. (video)
"David Howell has been having a great year but the veteran Adams would take the top spot this year. Many of the other players along with some surprise guests would kibitz their games from time to time including the English GM John Nunn."
3 time World Champion chess problem solver, GM John Nunn, observing a game.
"In the FIDE Open there were many new players that I have not photographed before and my favorite was the fourteen year old Indian prodigy Rameshbabu Praggnanandhaa."
Rameshbabu Praggnanandhaa at the board. (video)
"Very professional and extremely confident at the board for being so young. His round seven victory over a top French GM and friend of MVL, Jules Moussard, was quite exciting. GM Praggnanandhaa would go on and tie for first place. Fellow Indian player GM Chithambaram Aravindh was also a pleasure to photograph and finished tied for third. Many great games to watch but I was disappointed to see no American players this year." [now pictures and a summary of GM Speelman's simul]
Quoting John Brezina:
"There was something going on for any type of chess fan including the
annual simul by English GM Jon Speelman.
While he dispatched most players quite easily, one young man gave him some trouble. As the last board standing he garnered quite the attention including the mother of Indian GM Praggnanandhaa."
Maybe GM Speelman dispatched these kids easily... (video)
... but this young man was not at all easy...
...and the Grandmaster had to work to hold the draw.
"And the nearly empty wine glass of Mr. Speelman would indicate the struggle that ended in a draw. Meeting new people at these events is something I enjoy most including Dylan Mize. He is an American student at Slade School of Fine Art in London, doing a Masters in painting."
Dylan Mize, an American artist, at work at the London Chess Classic.

"He could be seen in the front row of each game doing color sketches in soft pastel he calls "chess portraiture". He kindly allowed me to photograph him at work and was kind to share some hi-res photos of his work. He hopes to perhaps sell these and the originals someday. It was a short visit here for me this year but quite enjoyable. The games started late in the afternoon which allowed much sightseeing during the day. Thanks to the organizers who do such a great job with this tournament and the entire Grand Chess Tour. I cannot wait to see next years locations and lineup of players. Another great year of chess coming to a close. I will continue and try to grow the Parker Chess Club tournaments next year with the next one on Sunday, January 26, 2020. Until then, play on and share our wonderful game and have a Merry Christmas and Happy New Year!" - John Brezina, Parker Chess Club
Another great report, Mr. Brezina. Thank you very much.