DCC August 2018 Report
5:17pm Friday, August 31st, 2018
Admittedly, I am little more than unsalted, watered down sauce :-)
Before getting to an excellent summary with great pictures by John Brezina from the recent Sinquefield Cup in St. Louis, let me draw attention to a review of the Denver Chess Club by Chess-site.com We are now listed as one of the best chess clubs in the United States. I am not making this up. Here is the direct link to the review: https://www.chess-site.com/chess-clubs/denver-chess-club/ See other chess club reviews here: https://www.chess-site.com/chess-clubs/ Find high quality chess equipment here: https://www.chess-site.com/chess-sets/
Let's start Mr. Brezina's report with this photo of TD extraordinaire, Dean Clow.
One of the GM's couldn't make it in time for the round, so the organizers asked Dean if he would fill in :-)
Quoting John Brezina:
"What another incredible Sinquefield Cup in St. Louis! I had the pleasure of taking Dean Clow out to St. Louis for his first visit to the chess capital of the U.S.A. We made it there just in time for the last round of Rapid & Blitz, where Nakamura would take first place. A nice follow up to his win in Paris. We then attended the closing ceremony where we had a chance to meet the players. Hikaru was very gracious for photos along with his father Sunil."
Father and son proudly displaying the trophy.
"The next day Ultimate Moves took place where father and son battled it out with a team of six. A nice addition was Peter Svidler and Magnus Carlsen joining the teams. Rex and Randy Sinquefield along with their teams would make 5 moves each and then rotate. Very entertaining to watch along with the banter."
The World Champion, GM Magnus Carlsen, having fun in the Ultimate Moves competition.
...and so is GM Hikaru Nakamura.
"Afterwards Dean and I competed in a team championship with 3 rounds and represented Colorado well with a perfect score together, 6-0. The "Mile Hi Guys" tied for first and celebrated nicely afterwards."
"Are you really the World Champion? " :-)
"The next day, a fan favorite, was the autograph session. A great opportunity to have items signed by the best players. A special book just released was "The Sinquefield Cup, celebrating 5 years". Many would be signed by the authors and players. Then across to the World Chess Hall of Fame we attended the opening ceremony of the Sinquefield Cup."
At the Opening ceremony. We all owe a debt of gratitude to Mr. Sinquefield.
"Another great time to meet the players and enjoy seeing the world champion and challenger with Rex between them as if promoting a boxing match! The next morning we would enjoy a Staunton Standard talk with the founder of the House of Staunton, Frank Camaratta and NM Jon Crumiller. A very knowledgeable pair indeed."
Win, Lose, or Draw. Players respect each other, with post game analysis,
"And then on to round one of the Sinquefield Cup. Aronian and Shak would each win. I returned for round 7 where the possible history making match between Fabiano & Magnus took place. It ended in a marathon 5 hour draw but had fans on the edge throughout. First time I had ever seen the viewing area upstairs full for the entire 5 hours. A 3 way tie for first would make Fabiano, Magnus, and Levon co-champions. Fitting as they all had been previous Cup winners."
GM Levon Aronian and somebody else :-)
"All the players and people at the club were very gracious and accommodating to Dean and I. Thanks to all of them and everyone who run chess clubs everywhere. Including our own Colorado Clubs. These volunteers work hard behind the scenes to make it easy for us to just show up and play chess. Next time you play an event, thank someone running it, like Dean. I enjoyed getting to know him a little better and what a computer whiz he is! We are all very fortunate to have him and others at the DCC. Sorry I went a little long here. Keep playing, growing and enjoying the game!"
The street scene outside the St. Louis Chess Club.
Thanks again to Mr. Brezina for this report and fantastic pictures. See all of John's photography from St. Louis here: https://photos.app.goo.gl/ydjFvmasJsKAtWJe7 and here: https://photos.app.goo.gl/oWDC8J2yiY2FErmJ9 and here: https://photos.app.goo.gl/jzGHWB4TmEqDWeq16
Long time Colorado chess players will remember Mike Presutti. He has recently retired and moved to Idaho. Mike relates how he came to be in the 2018 Senior Invitational - recently held in Madison, Wisconsin - in this issue of the Idaho Chess Association magazine: https://www.idahochessassociation.com/single-post/2018/08/22/My-Accidental-Trip-to-the-USCF-National-Senior-Invitational-Tournament-Who-Says-there-is-no-luck-in-Chess

At the tournament, Mr. Presutti met a player he knew from long ago, and one whose name many Colorado players will recognize, Alex Fishbein. Mr. Fishbein won the tournament as the 2018 senior representative from New Jersey. For an excellent game played by Mr. Presutti at the Senior Invitational see diagram # 1 below.
I have been reading GM Garry Kasparov's book, "Deep Thinking". This is great book is about his 1997 match against the IBM computer, Deep Blue, and the rise of computer chess and intelligent machines.
In chapter 1 Kasparov discusses the history of chess and its worldwide appeal to all manner of players. He is asked what he, as World Champion, thought separated him from other strong chess players. His answer, "The willingness to keep trying new things.- different methods, uncomfortable challenges ...is what separates good from great. Focusing on your strengths is required for peak performance, but improving your weaknesses has the potential for the greatest gains." (page 15) This means I'm gonna try 1. d4 :-)
We have all heard NM Brian Wall label low rated players as "weak sauce". Here is a similar remark from GM Kasparov, talking about having the advantage of the 1st move. "The extra tempo ...doesn't mean much in amateur play ...when weak players are exchanging blunders and wasting time on nearly every move..." (page 176) Kasparov also recalls that a fan once said to Fischer, "Nice game, Bobby" Fischer's retort was "How would you know?" (page 92) Then on YouTube, Brian Wall found this quote by GM Alexander Grischuk, "Thank you for saying it was the most beautiful game in the Candidates but it probably means you haven't seen too many games"
A great photo of GM Grischuk taken by John Brezina in St. Louis.
Admittedly, I am little more than unsalted, watered down sauce :-) but computers are well on the way to making us all "weak sauce". Still, I like to play this ancient game. As do we all here at the Denver Chess Club.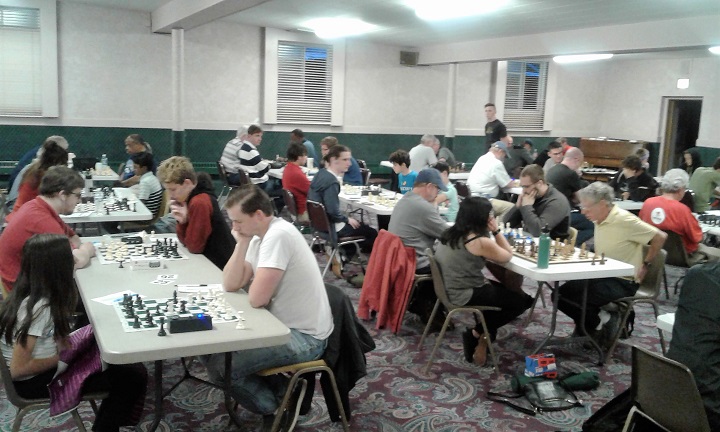 50 or more players each Tuesday has become the norm at the DCC,
And after all of that, on to who won what this month. In the Open section, Kevin Seidler (diagram #8) was leading with 3 points going into the last round and was expected to be on board 1. But for one reason or another he was not in attendance for the money round. Thus, Brian Wall with 2.5 points was paired against the latest roadblock to his coveted 2300 rating, Richard Shtivelband, who had 2 points.
DCC President, Life Master Brian Wall
With a win Mr. Wall would cross the 2300 barrier and take clear 1st place. But it was not to be. Brian had the glimmer of an idea for a Rook sac, but in his over the board analysis, he overlooked a crushing Knight move that would justify the Rook sacrifice. Instead he - as we all have done - impulsively played another move that essentially lost on the spot. C'est la vie. (diagram #2)
Sullivan McConnell in the headband playing Eamon Montgomery
As a result, Mr. Shtivelband, Mr. Seidler and Sullivan McConnell all finished with 3 points and share the 173 dollar combined 1st, 2nd and 3rd place prizes . Sullivan earned his share of the prize by winning his last round game against Dean Clow. Who in turn won the Open Upset prize of 20 dollars for his excellent round 2 win against Mr. Shtivelband. It is good to see Mr. Clow back to playing some chess at the DCC.
Todd Walker looking directly at the camera.
In the U1900 section, Todd Walker offered a draw to his opponent knowing he would take clear 1st place with the half point after he saw Phil Brown lose to Haroun Mueller-Omar on board 2. Mr. Walker said his position was difficult and he was hoping Karthik Selva would not refuse the offer. Maybe the young Karthik was nervous about playing on against the much higher rated player. But I'm sure he also knew he would take clear 2nd place with the draw. Not to mention the rating point gain. Mr Walker won 79 dollars and Karthik takes home 47 dollars.
John Brezina captures the intensity of Karthik Selva at the board.
Steve Kaufman, Haroun Mueller-Omar, and Michael Crill share the 32 dollar 3rd place prize. Certainly Mr. Crill worked the hardest for his share of the prize. He lost to Karthik in round 3, but won all his other games were big upsets. Including drawing Haroun in round 1 and winning against Steve in round 2. He also upset Mario de la Victoria, who is a strong player that we are glad to see back at the DCC.
Micheal Igoe thinking about his next move. Another crisp clear photo by Mr. Brezina.
The actual 20 dollar U1900 Upset prize was won by Michael Igoe for his 273 rating point difference win against Bill O'Neil. Mr. O'Neil and I are both striving to regain a 1800 rating. We both play good one game and then really bad the next. Consistency in this game is just so difficult.
The U1500 section was won by Robert Corboy with a perfect 4-0 score. He upset Rob Cernich in round 3 and also won against the slightly higher rated Rithvik Ijju in round 4 to take the 1st place prize of 79 dollars. Coleman Hoyt took a round 2 bye and won all his other games to win the 2nd place prize of 47 dollars. (diagram #5)
Long time DCC member, Paul Kullback, playing new to the DCC, Alayne Wilinsky
We had a 2-way tie for 3rd place in this section. Rithvik along with long time DCC Tuesday night regular, Paul Kullback, each finished with 3 points and share the 32 dollar prize. Ethan London also ended up with 3 points, but he had a big 300 point upset win against George Peschke in round 1. So instead of sharing 3rd place, he wins the 20 dollar Upset prize. Incredibility, both David Pupko and Andrew Eskenazi had separate upset wins with the same 247 point rating difference. How often is that going to happen?
Congratulations to all the prize winners. Thanks to all the new players we are seeing at the DCC. You and our long time members are making the Denver Chess Club great.
Here are a few interesting game diagrams. Starting with a Mike Persutti game from the USCF Senior Invitational. Followed by an awesome game that Chris Petersen played at the 2018 Colorado Open.
1) Mike Presutti vs. Edward Garner. 2018 Senior Invitational, Round 6. Black has just played 19... Nf5-e7. Mike played 20, Rd6 and Mr. Garner replied ...Qc7. Can you see the winning move Mr. Presutti found to win an Upset prize. See Brian Wall's answer after the last diagram https://denverchess.com/games/view/17720 Thanks for the game, Mike. Hope you are doing well out there in Idaho.
2) Chris Petersen vs. Brad Lundstrom. Colorado Open, Round 5. Final Position. Black resigns. A lot of Colorado players would look at this position and immediately know it was a Chris Petersen game. It's scary to be facing a Chris Petersen attack. He will be sacrificing everything and you just know mate is coming. https://denverchess.com/games/view/17778
And now some games from the DCC August 2018 tournament...
3) Richard Shtivelband vs. Brian Wall. Round 4. White's last move was 18. f2-f4. Do you see why 18... Nd5-b4 was a mistake? Do you see the brilliant move that could have been played? https://denverchess.com/games/view/17767 See the computer analysis here: https://denverchess.com/games/view/17768 See Mr. Wall's comments about this position after the last diagram. Also find an interesting Brian Rountree - Brian Wall discussion on Facebook here: https://www.facebook.com/groups/200770283292012/?ref=br_rs
4) Eamon Montgomery vs. Griffin McConnell. Round 4. After Griffin played 25... Qh6-h4 attacking a Rook on e1, Eamon played 26. Re1-e5. Do you see the winning move in this position? https://denverchess.com/games/view/17771
5) Coleman Hoyt vs. David Pupko. Round 3. Black's last move was 16... Bd7-c6. How does White play to mate or win the Black Queen? https://denverchess.com/games/view/17765
6) J.C. MacNeil vs. Brian Ledsworth, Round 3. After 23. f5-f6 Black played ... g6 and I almost didn't play 24. Qg5 Kh8 25. Qh6 Rg8 26. Rf3 because I didn't see what to do about the back rank threat after 26...Rxc4. Taking another look, I realized there was no problem. What did I finally notice? https://denverchess.com/games/view/17770
7) Emad Musa vs, Vedanth Sampath. Round 2. Vedanth, in time trouble, stopped keeping score in this position. It's too bad because when I saw the end of the game many moves later, it was White with a King, Rook and the passed "c" pawn. Black had only His King and a Rook. With both players under extreme time pressure I watched Emad try every trick in the book to Queen the pawn but Vedanth was having none of it. Draw. https://denverchess.com/games/view/17744
8) Kevin Seidler vs. Dean Clow. Round 3. Final Position after 23. Qe2-h5. Black resigns. Nearly equal material but Black is dead lost, Mr. Clow was not happy with his play in this game. https://denverchess.com/games/view/17762 See Brian Wall's analysis of this game here: https://denverchess.com/games/view/17763 Interestingly, Brian Wall says Richard Shtivelband used the same first 10 opening moves to win a game against Allaa-Addin Moussa at the Colorado Open. Brian, being Brian, also wants us to know he made a draw in a DCC Blitz game with the same opening moves against Mr. Shtivelband :-)
9) J.C. MacNeil vs, James LaMorgese. Round 4. OK, so I've been playing nearly the whole game a Rook up, but I was still pleased to make a nice finish. White to move and mate in 2. https://denverchess.com/games/view/17769
Brian Wall's answer to diagram # 1:
20 Rd6 Qc7 ( -10) 21 Qc2!! ( my first thought) Nc6 22 Qc5!! or Qg6!! Mike's way 20 Rd6 Qc7 21 Qc3!! Nc6 22 Qc5!!
works just as well.

Brian Wall's Comments about diagram #2:

"...After Gunnar jokingly said a few months ago I am too old to play the Sicilian, I have played little else, even beating Gunnar with the Sicilian after that comment. Gunnar convinced Richard to play his favorite 6 Qe2 against my Najdorf.
The game was right out of Kotov's Think like a Grandmaster. After debating for 5 minutes whether 18 ...Rxb2!! or 18 ... a5 was better, I impulsively played Option C 18 ... Nb4??????????????????????? with no analysis, dropping a Rook like a Kotovian fool.
I wanted to play like Aronian the last day of the 2018 Sinquefield Cup, saccing a Rook. I analyzed 18 ... Rxb2!! 19 Kxb2 Rb8+ 20 Ka1 but then missed the crusher 20 ... Ne3!!!!! utilizing the square that 18 f4??? just unguarded. Instead I looked a18 ... Rxb2!! 19 Kxb2 Rb8+ 20 Ka1 Qa3 21 Bc1 Nb4 22 Bxa3 Nxc2+ 23 Qxc2 and concluded the whole idea was farfetched.
That's how close I came to being 2300 after 25 years! At least my instincts are intact, the back of my neck stood up when I saw 18 ... Rxb2!!! When Gunnar told me over the phone what I missed I thought, but isn't there18 ... Rxb2!! 19 Kxb2 Rb8+ 20 Ka1 Ne3!! 21 fxe3 ( illegal)" [the pawn is no longer on f2] "After I dropped a Rook I played 20 pointless moves."
Thanks to all,

J.C. MacNeil